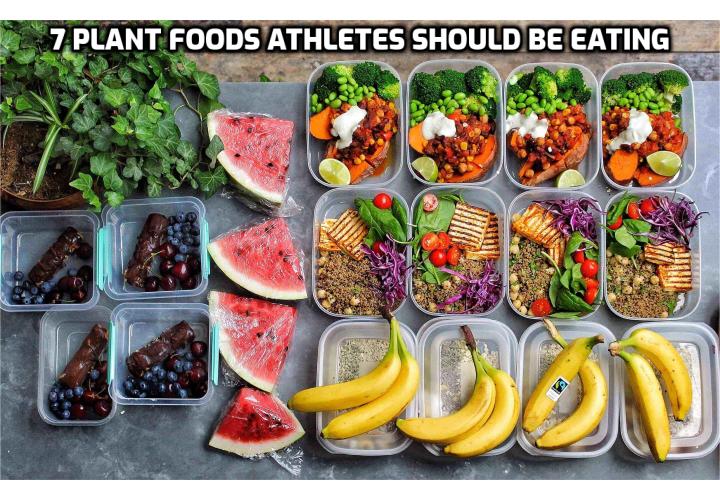 Make no mistake, plant foods can give you an edge on the field, in the gym, or wherever your life takes you!
Performance and recovery are top concerns on any athlete's mind.
Although your workouts drive your intensity to be competitive, the foods you eat help you get the most from these workouts every single day.
Eating the wrong foods at the wrong times can severely impact your performance, so it's essential to get the right balance of energy, carbs, protein, vitamins, and minerals.
It's a common misconception that athletes' bodies require meat to function at their highest level.
Plant-based foods provide superior nutrition to enhance performance, energy, stamina, and recovery in natural and efficient ways.
And by no means do you have to become vegetarian to get the benefits described here. Simply incorporate more plants (especially these plant foods) into your diet to gain a competitive edge. Here are seven plant foods worth considering:
Soybeans
The ultra-versatile soybean is an enduring champion of powerful plant foods. Whether you consume chickpeas, hummus, tofu, or soy milk, these little beans are essential for every athlete. A half cup of soybeans has 11 grams of protein to fuel your workouts with just 127 calories per serving.
The isoflavones in soy products have been also linked to increased cardiovascular health, which is important for all athletes. Soy does this by lowering LDL concentrations in the body and improving vessel elasticity. So not only can soybeans give you the energy you need to perform, but they can also keep your heart pumping the way it's supposed to.
And don't worry about the hype about soy and estrogen unless you plan to consume copious amounts of this stuff all day long. The bottom line is, clinical studies don't support this fear.
Seitan
Seitan has an incredibly high percentage of calories derived from protein: 70 percent! A half cup of seitan contains 31.5 grams of protein and just 180 calories, making it one of the best foods for athletes.
This plant-based food is essentially wheat gluten, the protein part of wheat that makes bread rise. You can actually make your own homemade seitan without spending a great deal of time or money. If you're new to seitan, try this seitan stir-fry with black bean garlic sauce recipe below.
Ingredients
2 cups boiling water
1 ounce dried shiitake mushrooms
2 tablespoons Chinese rice wine or sake
2 tablespoons black bean garlic sauce (such as Lee Kum Kee)
2 teaspoons cornstarch
2 tablespoons canola oil, divided
2 cups thinly sliced drained seitan (about 8 ounces)
1 tablespoon finely chopped garlic
1 tablespoon finely chopped peeled fresh ginger
4 cups (2-inch) cut green beans (about 1 pound)
2 cups hot cooked brown rice
1/4 teaspoon salt
Cilantro sprigs (optional)
How to Make It
Step 1
Combine 2 cups boiling water and mushrooms in a small bowl; cover and let stand for 20 minutes. Drain in a colander over a bowl, reserving 1/2 cup soaking liquid. Rinse mushrooms; drain well. Discard mushroom stems; thinly slice mushroom caps.
Step 2
Combine reserved liquid, rice wine, black bean sauce, and cornstarch in a small bowl; stir with a whisk, and set mixture aside.
Step 3
Heat 1 tablespoon canola oil in a large nonstick skillet or wok over medium-high heat. Add seitan to pan, and stir-fry 2 minutes or until lightly browned. Place seitan in a medium bowl.
Heat remaining 1 tablespoon oil in pan over medium-high heat. Add garlic and ginger to pan; stir-fry for 30 seconds. Add mushrooms and beans; cover and cook 3 minutes. Add black bean sauce mixture to pan; cook 1 minute or until sauce slightly thickens. Add seitan to pan; cook 1 minute, stirring occasionally. Combine rice and salt; serve seitan mixture over rice. Garnish with cilantro sprigs, if desired.
Tempeh
Similar to seitan in its nutrition advantages and culinary applications, a half cup of tempeh offers athletes 15.5 grams of protein for just 160 calories. Tempeh is nothing more than fermented and cooked soybeans, but it's even more nutritional than tofu due to the process by which it's made.
Another benefit of eating tempeh is that it encourages digestion and the absorption of nutrients in your body, especially calcium and magnesium, which are key nutrients for athletic performance.
According to one study, "Nutritional Implications of Vegetarian and Its Potential Impact on Athletic Performance," published in the Journal of Biochemical Sciences, meat alternatives, like tempeh, can increase energy levels in athletes.
Tempeh is a high-quality protein that provides all the amino acids your body needs for protein synthesis. No animal products or questionable supplement powders necessary!
Lentils
If you're an athlete, you should be eating lentils – simple as that. Lentils are low on the glycemic index, which is great for athletes who do endurance exercises like marathon training and long-distance cycling.
Melinda M. Manore, PhD, RD, FACSM wrote in her article, "Using Glycemic Index to Improve Athletic Performance," that "consuming moderate and low GI foods may also play a role in sport because these foods slowly allow glucose to enter the bloodstream. For example, it has been shown that moderate GI foods fed before endurance exercises actually help prevent the fall in blood glucose observed during 90 minutes of exercise compared to higher GI foods."
Other plant-based low GI foods include pears, chickpeas, cashew, apricots, plums, and apples. Check out the Macalester College Glycemic Index for Athletes to learn more about how carbohydrates play a role in athletic performance.
Lima Beans
Lima beans are low in calories (108.5 in a ½ cup) and high in protein (7.5 grams), making them a perfect addition to any athlete's diet. Not only are they high in protein, but also iron.
Athletes, female ones in particular, are at a heightened risk of iron deficiency due to excessive sweating and repetitive stress. According to the Handbook of Sports Medicine and Science: Volleyball, iron deficiencies can lead to poor performance and fatigue.
A half cup of cooked lima beans has two milligrams of iron, compared to only 1.2 milligrams in 100 grams of white meat chicken and 1.4 milligrams in dark meat chicken.
However, the book's authors warn that iron absorption from plant-based foods can be inhibited by drinking high amounts of coffee, tea, milk, and soda. Make sure to limit your intake of these foods while training to get the most out of your lima beans.
Almonds
Plant-based diets are inherently lower in sodium than meat-heavy diets, and low dietary sodium combined with sweating can result in muscle cramps and stiffness. The body's sodium requirements increase with higher levels of physical activity. Every athlete experiences soreness from time to time, but vegetarians and vegan athletes are especially prone to this condition.
Athletes often experience low calcium levels during periods of hard training, as well. When the muscles contract during a workout, calcium is used up, especially in large muscles, like the quadriceps, hamstrings, and gluteus maximus.
Almonds are an ideal plant-based food to solve both sodium and calcium deficiencies in the body and fuel your workouts. Almonds are also high in protein and the types of healthy fats that sustain energy during a gym session or competition. A cup of almonds contains 20 grams of protein, 47 grams of total fat, a milligram of sodium, and 25 percent of your daily calcium.
Spinach
Another great plant food to boost recovery is spinach. This leafy green is packed with iron, magnesium, calcium, potassium, and B vitamins to soothe sore muscles and get them back to their normal level of functioning.
Vegetarians and vegans who have low iron levels can really benefit from the iron content in spinach because it's challenging to refuel iron stores when you're intensely training.
The more active you are, the more iron your body needs, especially if you engage in constant impact activities like running. It takes a while to build iron stores back up, so a diet with frequent servings of spinach can restore bodily iron to optimum levels … no matter how much you sweat.
Stamina-Enhancing Vegan Foods
Feeling low on energy? Also add these foods into your diet to boost stamina.
Black beans
Hemp seeds
Raisins
Dates
Pumpkin seeds
Goji berries
Recovery-Boosting Vegan Foods
These are other great foods that reduce inflammation after workouts, boost recovery, and get you back at it in no time.
Sweet potatoes
Broccoli
Beans
Sesame Seeds
Sunflower seeds
Legumes
Power Up with Plants
Whoever says that plants can't foster and fuel maximum athletic performance is simply misinformed. These are just seven of the many powerful meatless foods that can take your game to the next level.
Don't let food drag you down and hinder your potential. Power up with plants and see what difference it can make in the gym, in competition, and in life.
For more ideas about plant foods for bodybuilding, watch this video – The Best Vegan Diet For Bodybuilding
Author Bio:
Chris Willitts (creator of V3), is the founder and owner of Vegetarian Bodybuilding.
V3 Vegetarian Bodybuilding System is a mixture of science and author's advice, providing users with optimal diet and exercise. This system is designed for vegans and vegetarians only.
A lot of research has been put in this program. Furthermore, a lot of professional bodybuilders and athletes tried and tested the program, praising its progressiveness and efficiency.
The program is about taking control of your own body and health according to your potential and needs. And worry not; you'll get plenty of proteins with this system. It will boost you with energy, and you'll feel just a strong as any carnivore would (perhaps even stronger, depending on how much you invest in your exercise). It avoids vitamins deficiency and provides you with a lot of proteins, vitamins, minerals, and antioxidants. 
Instead of saying things like "I think a plant-based diet is good for athletes and bodybuilders," the V3 Vegetarian Bodybuilding System claims "I know a plant-based diet is good for athletes and bodybuilders, and I have results to prove it."
To find out more, visit the website at V3 Bodybuilding – Plant Foods for Bodybuilding