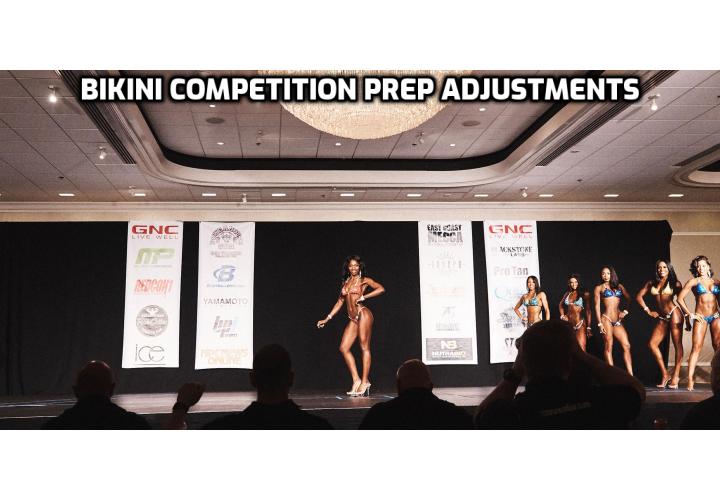 Bikini competition prep is hard enough as it is, but being vegetarian can present another challenge to the equation.
The reality is that some plant-based proteins won't agree* with your taste buds.
*This is a kind way of saying that some plant foods don't exactly taste like a juicy steak or chicken breast.
Tiffany Brooks (VB fan) recently sent an email mentioning that she's having a hard time eating some foods on her vegetarian bodybuilding diet/meal plan.
In particular, Tiffany doesn't like choking down tempeh.
I get that. My aversion also happens to be tempeh, as well as some forms of tofu.
We all have different tastes, so your thing might be broccoli, peas, etc.
The point I want to make here is that we can easily make adjustments to our meal plans in favor of our palate.
With Tiffany's permission, I have provided the correspondence between us via email to illuminate this common challenge with a bikini competition diet as a vegetarian bodybuilder.
Tiffany:
My current struggle is bikini competition prep. I have a current meal plan from a good coach, but she doesn't specifically make meal plans for a picky vegetarian like me. My current plan looks like this:
Snack 1: (pre-workout) Ezekiel bread w/ 1 tbsp. peanut butter
Meal 1: Protein shake w/ 2 tbsp. wheat germ (post workout)
Meal 2: 1 cup oats w/ 1 scoop of protein
Meal 3: Tempeh salad (10 oz. tempeh, 2 cups spinach, 5 asparagus spears, 1/2 cup avocado, 1 tbsp. olive oil)
Meal 4: 1 cup Greek yogurt w/ 2 tbsp. chia seeds
Meal 5: 5 oz. legumes, 1 cup quinoa, and 1/2 cup broccoli
Meal 6: Protein shake
My main concern is the 10 oz. of tempeh, which has been VERY difficult for me to eat. I don't usually eat tempeh, and I'm not a big fan of it (I guess I really don't know how to prepare it because it has no flavor and is dry).
Do you have any suggestions on how to replace some of the tempeh or how the plan can be tweaked some to get the best results? Do you think 10 oz. of tempeh is really necessary?
Most plans I see have around a 4 oz. portion per meal.
I am 11 weeks out from competition, currently weigh 134 lb., 5'4″.
Thanks,
Tiffany
Chris:
Tiffany,
Thank you for reaching out.
My first suggestion would be to read up on ways to make tempeh taste better.
Half the battle with a vegetarian bodybuilding diet is not only learning what to eat but also how to prepare it so that it tastes good.
There are thousands of tasty vegetarian recipes on Pinterest, for instance.
You can also try to replace tempeh with black beans or quinoa.
One cup of black beans has 15g of protein, 41g of carbohydrates, 1g of fat, and 227 calories.
One cup of quinoa has 8g of protein, 39g of carbohydrates, 4g of fat, and 222 calories.
Finally, you may want to try a vegan protein powder that has more than one kind of plant protein so you are sufficiently covering all your amino acids and getting more nutritional variety.
I read in your meal plan that you are already drinking two protein shakes a day; however, I've noticed that many vegetarian bodybuilders and bikini competitors dial it up to three to four shakes a day. Especially for bikini competition prep, I see more protein powder being introduced to help lean out.
Q: Does your meal plan look the exact same every day, or if there's variation, what does it look like?
Tiffany:
Thank you so much for the feedback. A concern with the addition of black beans is the increase in carbs. Does high carb intake seem to be a problem with other bikini competitors?
I'm having the problem of keeping carbs lower while having adequate protein intake.
Right now, there is no variation and the plan is to continue this meal plan at least six weeks before any changes are made.
Chris:
Tiffany,
You bring up another common concern with a vegetarian bodybuilding diet regarding carbs.
The thing is, carbs from plants aren't quite the same as carbs from say, potato chips, bread, cereal, etc.
What I mean by that is those carbs function differently within the body, and you're not as likely to store fat from plant-based carbs because they aren't calorie-dense.
Even though a plant-based diet is optimal, a variety of diets can help us lose fat. What matters most is consistently eating fewer calories.
Competition prep is clearly more complex than that, but you get my main point. What I would suggest is to give yourself a little more freedom with carbs derived from plants and carefully monitor your calories and results.
For more ideas relate to bikini competition prep, watch these 2 videos below – Bikini Contest Prep What To Know
Bikini Competitiors MEAL PREP- How I meal prep! Bikini Prep Diaries
Author Bio:
Chris Willitts (creator of V3), is the founder and owner of Vegetarian Bodybuilding.
V3 Vegetarian Bodybuilding System is a mixture of science and author's advice,providing users with optimal diet and exercise. This system is designed for vegans and vegetarians only.
A lot of research has been put in this program. Furthermore, a lot of professional bodybuilders and athletes tried and tested the program, praising its progressiveness and efficiency.
The program is about taking control of your own body and health according to your potential and needs. And worry not; you'll get plenty of proteins with this system. It will boost you with energy, and you'll feel just a strong as any carnivore would (perhaps even stronger, depending on how much you invest in your exercise). It avoids vitamins deficiency and provides you with a lot of proteins, vitamins, minerals, and antioxidants. 
Instead of saying things like "I think a plant-based diet is good for athletes and bodybuilders," the V3 Vegetarian Bodybuilding System claims "I know a plant-based diet is good for athletes and bodybuilders, and I have results to prove it."
To find out more, visit the website at V3 Bodybuilding – Bikini Competition Prep Routine