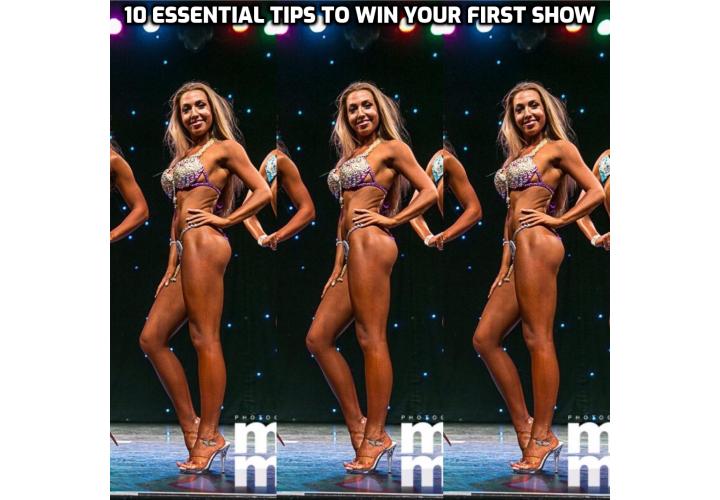 So you've just hit the gym and taken part in a 12-week fitness challenge to cut the fat, build some muscle, and get that toned physique. Bodybuilding isn't for the faint of heart.
We're pretty sure you're in for some incredible transformation, so why not take it a step further and take part in a bikini competition?
It can be a win-win situation for you — getting that toned look will take a great deal of hard work, and the competition will undoubtedly be a high motivational factor. Besides, why not flaunt it when you've got it?
Of course, just like any other new challenge, there will be growing pains in the beginning. Some can be painful enough to make you quit. But don't get overwhelmed by the obstacles that come up along the way.
Instead, look at them as opportunities to learn and master the ropes. With dedication, hard work, and the right diet, no doubt you'll be reaping the rewards that await you down the road.
At this point, we are sure there are many unanswered questions in your mind. We've rounded up the top ten things you should look into when considering joining a bikini competition.
Keep each of them in mind so you can set out on the right foot for your very first contest prep.
1. Find a purpose for joining the bikini competition.
A target or a goal sets anything straight and gives you the right direction. This is the first thing you should do when thinking of joining a bikini competition. You have to have a purpose besides just winning.
It's really beyond your control how your competitors will perform or how the judges will mark their score cards. Focus on yourself instead and what you wish to accomplish other than emerging on top of the race.
This can be anything from simply losing weight and toning up, to establishing your name as a trainer or fitness pro. You could be doing it just for the fun, but that in itself is a clearly defined purpose.
You will eventually see that having a purpose will help you get through the low points, especially when contest preps turn out to be a rollercoaster ride.
Competition prep will take a lot out of you, both physically and emotionally, so make sure you're in the right state of mind before taking the leap.
2. Choose a plant-based diet plan you can stick with.
What you eat and when you eat it matters more than ever when you're training for competition. Nutrition knowledge is a key component of bodybuilding and vital to your success on stage.
Many bikini competitors have found success with vegetarian and vegan bodybuilding meal plans that are packed with plant-based protein. Meat-free diets don't weigh competitors down, and improve aesthetics by not adding bulk in the wrong places.
But ultimately, you need to choose a diet plan that gives you a competitive edge and also works with your lifestyle.
Leading up to the days of competition prep, many healthy women still enjoy an occasional weekend indulgence, like a late-night slice of pizza or glass of wine.
But those indulgences will have to stop as you get closer to the big day, and these types of lifestyle changes will undoubtedly cut into your social life.
So many of our interactions with friends and family are built around food, but sacrifices will need to be made during prep time. Stick to five or six lean meals per day and prepare meals in advance for the upcoming week with weighed portions on a food scale.
According to Journal of the International Society of Sports Nutrition research, a competitor's caloric intake should be at a level that results in bodyweight losses of about 0.5 to 1 percent per week to maximize muscle retention.
Research also shows that meals with 0.4-0.5 g/kg bodyweight of protein before and after resistance training maximizes the benefits of nutrient timing and frequency.
In terms of supplementation, creatine monohydrate, caffeine, and beta-alanine have shown beneficial effects for contest preparation.
Pre-competition carbohydrate loading toward the end of preparation has shown promising results to improve appearance in research studies as well.
But remember, strict diets, rapid weight loss, and quick muscle gain can put serious strains on the body. So listen to what yours is telling you and never cross the line over to unhealthy dieting practices or starving or dehydrating yourself for perceived gains.
3. Join the right group.
Being with the right people matters a great deal when you're thinking competition level. Because you are an amateur, it can help to become a member of a respected organization.
Examples of these are the International Natural Bodybuilding Association (INBA), World Beauty Fitness and Fashion (WBFF), and the National Physique Committee (NPC), which is the largest among the three.
Do a bit of homework to learn about their rules and regulations. You'll also come across vital information such as how frequently they run competitions near your area.
That can help you decide which of these organizations comes closest to matching your fitness goals. Also, keep in mind that competitive organizations come with membership fees even if you never compete, which tend to be between $50 and $150 per year.
4. Don't obsess over imperfections.
Many women are hesitant to take the plunge into the competition world simply because they have a few scars or stretch marks.
It's unheard of to meet a bikini competitor who doesn't have at least a few imperfections that she's embarrassed about and trying to hide. Although bikini competitor professionals may look perfect, just remember that they're not.
There are multiple definitions of beauty and femininity that lead competitors to find success.
In the end, your spray tan will cover a lot, and your physique will still shine through, regardless of whatever imperfection you're hiding. Not every judge is looking for a cookie-cutter image of last year's winner.
If you've put the work into your physique and all the little details that make a bikini competitor stand out, no scar or stretch mark can get in the way of that.
5. Attend local competitions.
Be an observer first at a local show. Better yet, attend a series of local competitions held by different organizations to gauge the value and quality of each event. This will largely help you decide which competitions are worth taking part in.
Interact with both competitors and organizers to get objective feedback. You can't lose anything by asking the right questions.
Be particularly observant of competition procedures — it pays to take heed of the poses you need to strike or even how lighting can affect the way you look from the viewpoint of the judges and audience.
That way, you won't need to deal with unexpected surprises when it's time for you to compete in your very first event.
6. Get a coach. Period.
A competition coach has all the experience and exposure that are vital to your contest preparations, so it can be a smart move to hire one. However, don't make the mistake of hiring the first coach you meet at the gym.
Ask around for referrals: your association or competitors can be the best source of information regarding a good local coach.
When talking to a potential coach, look deeper into their training philosophies. They should be in consonance with yours. Get feedback from previous clients and prepare a list of questions to ask when you finally sit down to discuss training matters.
If it's your first time to ever join a competition, we suggest you hire a veteran coach who does one-on-one training. As you gain more experience later on, you can make do with an online coach.
Many first-time competitors aren't sure where to look for a coach, but in this digital modern age, it's easier than ever to get connected with a coach whose mission aligns with yours.
A quick internet search will yield lots of results, but make sure to read reviews so you don't fall victim to a scam.
Whether you find someone online or through word of mouth, make sure to talk with former clients and set up an interview with the coach before committing to ask questions and gauge the trainer's personality and approach.
Cost is one of the biggest barriers to entering a bikini competition for the first time. If you're on a tight budget, you may need to cut some corners, but that doesn't mean you still can't be competitive.
As you'll see in our cost breakdown that follows, hiring a coach is often the single highest expense associated with entering a bikini competition.
As an alternative to going this traditional route, you can start with a long-distance coach that offers an affordable rate, as long as you already have a high level of motivation and discipline.
7. Compound workouts and vary exercises that target key muscles.
Whether you're working with a personal trainer or hitting the gym solo, you'll quickly learn that the workouts you do to train for a bikini competition are different from other workouts you may be used to.
For example, you can enhance the physique of your butt by targeting lower back muscles. That's why back extensions should be on every bikini competitor's workout list. There's a saying in bikini competition prep that "it's all about the glutes."
This means lots of squats with good form, using heavy weights, frequent glute training, and keeping cardio limited.
Overall, the desired look for a bikini competition is lean and firm physique with excellent proportion, symmetry, balance, shape, and skin tone.
A personal trainer can set you on the right track for targeting your workouts, and so can simply talking with other current and former bikini competitors.
To accommodate change in your diet, such as phasing out heavy meat products in favor of healthier vegetarian foods, you may also need to adjust your workouts to cater to fluctuating energy levels.
8. Learn about competition hair, makeup, and jewelry.
Many women get so wrapped up in their workouts and diet that they forget about the little things (here's a great resource). But in competition, it's the little things that set you apart from the crowd.
Hair, makeup, and jewelry are more than just afterthoughts, and they really do matter when you're on stage.
The prevailing hair trends are long and straight, but a spiky pixie cut can accentuate your features and draw more attention to your face. The important thing is to find a cut that flatters you and suits your facial structure, regardless of the length and color.
Try out multiple hair styles under stage lighting and take lots of photos. Frizzy hair tends to show up more under the bright lights, so consider getting a pre-competition Brazilian blowout or spray with smoothing gloss right before going on stage.
It's a smart idea to hire a competition makeup artist for your first competition and then borrow their techniques. If you're on a budget, there are plenty of YouTube videos on competition stage makeup application to check out too.
One essential tip is to make sure that your base makeup isn't too light or it'll look pale compared to your body tan.
Less is more when it comes to stage jewelry, but that doesn't mean you can't indulge in the glitz and glamor of being on stage with detailed touches that aren't distracting.
But ultimately, these are all things that are best learned by women who have lived them, not by reading an article. This is where joining the right group and getting to know other local competitors really comes into play.
9. Adopt a bodybuilding competition attitude.
Strong and confident women defy outdated stereotypes that their gender is fragile, weak, and limited.
A study published last year in the Sociology of Sport Journal aimed to investigate how female fitness competitors perceive and negotiate the expectations of idealized femininity.
Rippling muscles and on-stage confidence have been traditionally deemed masculine traits, leading female competitors to compensate for "lost" femininity in their attitudes, gestures, poses, makeup, hairstyles, and jewelry.
The survey yielded contradictory results about the balance between female muscularity and femininity, but the important takeaway is to be true to yourself.
If you pretend to be someone you're not under the bright lights on stage, the judges will see right through it and you'll lose sight of your purpose that led you to compete in the first place.
But with that said, the competition world is filled with criticism and disapproval, and you'll need to adopt a competition mindset to roll with the punches and take the good with the bad.
By nature, athletic competitions cause both anxiety and arousal because of their uncertain outcomes, creating a hormonal response that bikini competitors must be prepared for.
Competition is no place for women with who are hypersensitive or easily offended. However, a positive attitude will take you that extra mile once you've put the hard work into your body.
10. Bring your wallet.
Most first-time competitors think that just because physique competitions don't involve expensive equipment like most other sports do, the costs to join one can be negligible. However, all the little expenses can add up and hit you with sticker shock.
Sitting down to draft a budget and make sure you include every little bit of expense that comes with both pre-contest preparations and the actual competition.
We talked to a significant number of seasoned bikini competitors, who have provided us with a rundown of typical expenses* you can incur when training for and participating in an amateur competition:
*These are simply approximations, costs may vary.
Hiring a competition coach: $500-900
Personal trainer: $50-100 per month
Competitive organization annual membership fee: $50-$150
Gym membership: $40-75 per month
NPC competitor's card: $120
Contest registration: $100
Hotel (if you're away from home): $100/night
Travel (rental car, plane ticket): $400
Competition prep food: $75 per week
Pre-competition supplements: $100-300
Suit: $350-1,000
Competition jewelry: $20-100
Heels: $40-90
Tan: $150
Makeup/hair: $200
Waxing, exfoliating, facial, mani/pedi, hair color: $300-500
Posing classes: $50 per hour
Suit glue: $5-10
Admission tickets for your supporters: $35-50/person
Stage photos: $100-250
The costs could go down as you join competition after competition because you won't need to buy new items for every competition. Other savings can come in the form of discounts, room sharing, and even sponsorships.
You may also be able to cut costs by renting a suit, enlisting the help of friends who have personal training knowledge, doing your own hair and makeup, and doing multiple layers of tanning at the stand-up machines at affordable tanning salons.
For more topics related to bikini competition prep guide, watch this video – Bikini Competition Guide – EVERYTHING YOU MUST KNOW
Bonus Tip: Know Your Judges
"This is my greatest 'insider' tip. Know who will be judging at your event, and who the head judge will be; this can be an invaluable tool. Judging can be entirely subjective. While one judge may prefer a softer more feminine physique with a more flirtatious look and more movement, another judge may prefer a harder physique with slightly more visible musculature and a more professional routine. If you're serious about competing, know your judges and their preferences. Ask via word-of-mouth, or view the galleries and videos of past winners to give you a hint." —Dr. Brandy Segura is an NPC bikini competitor, NPC judge, former physician, personal trainer, fitness writer, and mother of two.
Author Bio:
Chris Willitts (creator of V3), is the founder and owner of Vegetarian Bodybuilding.
V3 Vegetarian Bodybuilding System is a mixture of science and author's advice, providing users with optimal diet and exercise. This system is designed for vegans and vegetarians only.
A lot of research has been put in this program. Furthermore, a lot of professional bodybuilders and athletes tried and tested the program, praising its progressiveness and efficiency.
The program is about taking control of your own body and health according to your potential and needs. And worry not; you'll get plenty of proteins with this system. It will boost you with energy, and you'll feel just a strong as any carnivore would (perhaps even stronger, depending on how much you invest in your exercise). It avoids vitamins deficiency and provides you with a lot of proteins, vitamins, minerals, and antioxidants. 
Instead of saying things like "I think a plant-based diet is good for athletes and bodybuilders," the V3 Vegetarian Bodybuilding System claims "I know a plant-based diet is good for athletes and bodybuilders, and I have results to prove it."
To find out more, visit the website at V3 Bodybuilding – Bikini Competition Prep Guide