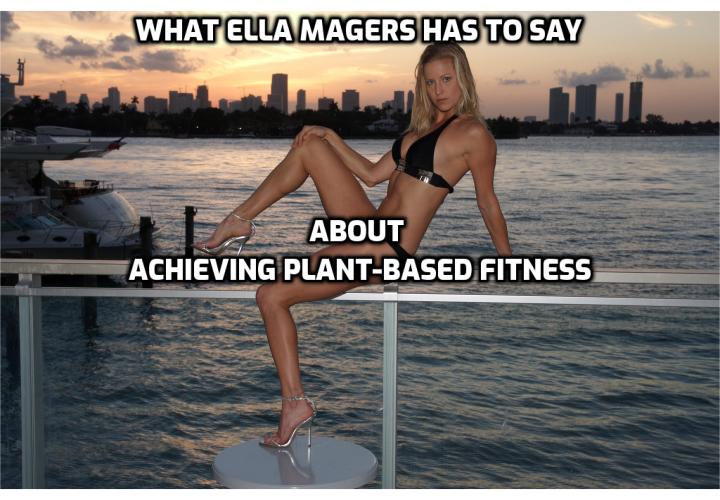 THE WOMAN BEHIND THE SEXY FIT VEGAN BRAND
"I figured doing well in a show would be a great way to promote plant-based eating. I was competition ready in just three weeks and ended up winning the bikini division and receiving second place in the fitness and fitness model categories. Plant strong!"
Name: Ella Magers
Occupation: Vegan Diet and Fitness Expert, Published Author
Location: Miami Beach, Florida, USA
Age: 35
Height: 5'8″
Weight: 122lbs.
Type of Training: Functional Fitness, Muay Thai, General Strength and Conditioning, Bodybuilding
Q: How did your career in plant-based fitness start?
Fitness has been a part of my life since I was just five years old.
I feel so fortunate that my parents got me into sports so early. I started with gymnastics and swimming.
By the time I was in fifth grade, I could out-pull-up the guys at my school on field day!
"I loved the feeling of being strong and energetic. I got into the fitness industry because I wanted to help everyone get to that place of feeling strong and unstoppable physically, as well as mentally."
I also have a clean, plant-based diet to thank for all the energy I had from such a young age.
My journey to adopt a vegan diet began when I was seven years old. We learned about Daniel Boone in school, and I came home and told my mom what a mean guy Daniel Boone was because he shot and ate animals. Her reply changed my life forever. She told me that we were just fortunate that we have grocery stores now, so we pay someone else to kill the animals for us to eat.
It was at that point that I connected the food on my plate with the animal it came from and I told my mom I would never eat an animal again – and I haven't!
My deep sense of compassion for animals led me to seek out information on the meat industry at a young age. When I learned that the dairy and egg industries were equally as cruel, I became fully vegan. I was 15. I felt so strongly, I organized groups and led protests and campaigns to educate people about the truth behind the closed doors of factory farms throughout my teenage years.
"I even won the Bill Rosenberg Award given by F.A.R.M., which honors a young person under the age of 18 who has made a substantial contribution to ending abuse of animals raised for food."
Given that my two deepest passions were fitness and animals, I began researching the health aspects of a vegan diet and I was thrilled to find all the hidden research showing just how healthful a whole food, plant-based diet really is! "Why isn't this information more accessible to people?" was my next thought.
It was then that I decided I wanted to spread the word and help as many people as possible take their fitness to the next level with the right exercise and even more importantly, a better diet. My vision brought me from North Carolina to Miami Beach, where I fell in love with the warmth, the sun, and the sexiness of the city.
One of the best things that ever happened to me was a major heartbreak I had shortly after moving to South Beach, when my fiancé and I broke up. I became depressed and was basically just going through the motions to get by every day. It was at that point that Muay Thai found me!
WEC (World Extreme Cagefighting) champ Patrick Assalone shot straight from the hip and told me to get my ass to class. This was exactly what I needed – someone to crack the whip and snap me out of feeling sorry for myself. I'm not exaggerating when I say that he kicked my ass. I was black and blue the whole time we trained together.
He didn't believe in shin guards, so there was no padding for protection from kicks. It may sound sadistic, but the physical pain forced me to take control of my mind in order to push through training sessions – as they say, "mind over matter."
"Muay Thai turned out to be a form of active meditation that gave me my emotional strength back and allowed me to take charge of my life direction and eventually develop my own brand, Sexy Fit Vegan®."
Q: In September 2013, you were featured with a spread in BodyBuilding.com as the Personal Trainer of the Month. Also, in 2014, you were named in Shape magazine's Top 50 Trainers in America. How did each of those opportunities come about?
My boyfriend submitted me for a shot at BodyBuilding.com's Personal Trainer of the Month. I had no idea until I got the email that I had been chosen. I was honored!
And to be honest, I have no idea how I got on the Shape Magazine's Hottest Trainers in America list, but I'm very lucky to have been featured.
It was because of the recognition in Shape Magazine that I was invited by the Sheraton to lead a workshop at their largest hotel in Macao, China, which was super awesome!
Q: What is your greatest achievement? What are you most proud of?
I would say that my new book, The Six Weeks to Sexy Abs Meal Plan, is what I'm most proud of. Not so much because having a book published is a great achievement, but because of everything I overcame to get to a place where this book became a reality for me.
"It's like my entire life, through all the ups and downs and twists and turns, was building up to this chance to have something tangible to share my passions, experiences, knowledge, and excitement with the world … something that can help people look and feel their best while helping save animals and the environment."
Q: Who has inspired you the most in your life?
Wow, there is a long list of people who have played important roles in my growth as a person and as a woman.
My parents come first, because they have always given me the unconditional love, freedom, and support I've needed to be myself and stand up for what I believe it.
They not only had my back when it came to my strong and passionate side, they have been there for the troubled side of me, too.
"I struggled with anxiety and depression starting in my teenage years and compensated with drugs, put myself in dangerous situations, and dated abusive guys from the time I was 15 until I was 21."
If it weren't for my fitness addiction being stronger than my addiction to drugs and bad boys, and the tough yet unconditional love from my parents, who knows where I would be right now.
As for inspiration, my first Muay Thai coach, who believed in me and saw me for the strong woman I am, and Ingrid Newkirk and President of PETA (People for the Ethical Treatment of Animals), who I saw always standing up for what she believes in with conviction, were some of my earlier inspirations.
At this point in my life, I feel especially inspired by John Salley (four-time NBA Champ turned vegan), who wrote the forward for my new book; Brendan Brazier, Ironman triathlete and founder of Vega; vegan bodybuilders Torrie Washington and Robert Cheeke; vegan calisthenics phenom Frank Medrano; 87-year-old Dr. Fred Bisci, who is my favorite speaker of all time; detox specialist Dr. Gil Jacobs; Dr. Michael Greger of NutritionFacts.org; and so many more people who have devoted their lives to promoting a healthy, fit, vegan lifestyle.
Q: Tell us about working toward your Doctorate in Holistic Sports Nutrition.
I actually have my Master's in Social Work, which I earned in my mid-twenties in order to have more skills working with people and helping change lives. It was through my social work education that I learned it's essential to take people from where they are at that moment; as the awesome Dr. Fred Bisci says, "You can't take people from penthouse to outhouse."
"Everyone is at a different point in their journey and has a different level of awareness and openness, and tuning into that as a fitness trainer and nutrition coach is how to find success with clients."
As for the nutrition degree, I thought, "I do research on nutrition all the time anyway and have a lot of knowledge, why not learn even more and get a degree to back it up?" I'm in a go-at-your-own pace program and have a way to go. Getting a book deal last year and having success with my website, ebooks, and blog have kept me incredibly busy the past year!
I'm in no hurry though; getting the information out there to as many people as possible takes priority over putting "Dr." before my name.
Q: Tell us about the path that led you to plant-based fitness and the decision to compete in your first bodybuilding competition.
Two of my best friends when I was a teenager were competitive bodybuilders, so I know all about the traditional "chicken and broccoli" dieting and how to make "protein powder pudding." I also witnessed the effects steroids and supplements can have – from gynecomastia to death.
"One of these best friends was found dead in his apartment earlier this year; the cause technically unknown, but I'm sure it had to do with toxemia from all the supplements he was taking."
Hanging out with bodybuilders and being as fit as I am, I heard the comment, "You should compete" for all of my adult life. I had no desire until finally in 2007, I saw that FAME World Championships was coming to Miami, and it had a more playful vibe than NPC competitions.
So I said, "What the hell!" I figured doing well in a show would be a great way to promote plant-based eating. It was also a great goal that I needed at the time to push myself harder at the gym. I was competition ready in less than a month and ended up winning the bikini division and receiving second place in the fitness and fitness model categories. Plant strong!
Vegan bodybuilding and fitness is gaining popularity these days. However, vegan fitness is definitely not just a trend, it's a lifestyle change that's here to stay!
Yoga and meditation, even for bodybuilders, powerlifters, and MMA fighters, is also a trend that will stick around. Balance is key when it comes to a healthy body and mind. The two are connected, so strengthening one will help you strengthen the other. It may be cliché, but it's true!
Q: What are the three biggest trends you see in bodybuilding and fitness right now?
1. Cross-training is huge right now. One common misconception is that you have to lift as much weight as possible, because, watching the CrossFit Games, you can easily get that impression. I love watching the XFit games by the way – wow.
Cross training is just a method of training that is highly variable in the ways you move your body, the muscles you use, and the amount and type of stress you place on your body. It's a great way to get in shape fast and maintain a high level of fitness. I teach a class that combines Muay Thai (heavy bags), spinning, and bodyweight exercises that can be considered cross-training, for example.
2. Vegan bodybuilding and fitness is gaining popularity these days. However, vegan fitness is definitely not just a trend, it's a lifestyle change that's here to stay!
3. Yoga and meditation, even for bodybuilders, powerlifters, and MMA fighters, is also a trend that will stick around. Balance is key when it comes to a healthy body and mind. The two are connected, so strengthening one will help you strengthen the other. It may be cliché, but it's true!
Q: How do you unwind and relax?
I am working on unwinding and relaxing – not my strong suit! But I do enjoy taking my dog (rescue Chihuahua) paddle boarding and to the beach as healthy ways to chill. I love watching UFC, football Sundays, eating vegan wings, and drinking strong dark Belgium beer as my "cheat" time.
Also, I started doing yoga consistently several years ago, and it is definitely an activity that not only stretches my tight muscles but also expands my ability to "let go" and breathe, which relaxes me.
Q: What one piece of advice can you give to those who are struggling with the decision to try going plant-based?
"Don't worry about making the decision to become plant-based for the rest of your life. Make the commitment to go vegan for six weeks and then you can re-evaluate. In the grand scheme of things, six weeks out of your life is a blink of the eye."
We are capable of anything we put our minds to. Plus, after the six weeks, when you feel and look better than ever eating delicious plant food, you won't even want to go back!
I actually wrote my new book, The Six Weeks to Sexy Abs Meal Plan for the purpose of helping people get through six weeks of healthy, plant-based eating successfully.
The plan is easy to follow, and there are 100 simple, delicious recipes to go with it. I also talk about what you can expect, and give you guidelines and shopping lists at the start of each week for convenience.
There is a bonus workout program to go with the plan, but the focus is on diet, because what you put in your mouth will mean the difference between a flabby and a sexy midsection! I'm excited for this book to get in peoples' hands because it really does give you the tools you need to have an amazing vegan experience.
To get more ideas about plant-based fitness, watch this video – WHAT I EAT IN A DAY | Plant Based
Author Bio:
Chris Willitts (creator of V3), is the founder and owner of Vegetarian Bodybuilding.
V3 Vegetarian Bodybuilding System is a mixture of science and author's advice, providing users with optimal diet and exercise. This system is designed for vegans and vegetarians only.
A lot of research has been put in this program. Furthermore, a lot of professional bodybuilders and athletes tried and tested the program, praising its progressiveness and efficiency.
The program is about taking control of your own body and health according to your potential and needs. And worry not; you'll get plenty of proteins with this system. It will boost you with energy, and you'll feel just a strong as any carnivore would (perhaps even stronger, depending on how much you invest in your exercise). It avoids vitamins deficiency and provides you with a lot of proteins, vitamins, minerals, and antioxidants. 
Instead of saying things like "I think a plant-based diet is good for athletes and bodybuilders," the V3 Vegetarian Bodybuilding System claims "I know a plant-based diet is good for athletes and bodybuilders, and I have results to prove it."
To find out more, visit the website at V3 Bodybuilding – How to Achieve Plant-Based Fitness