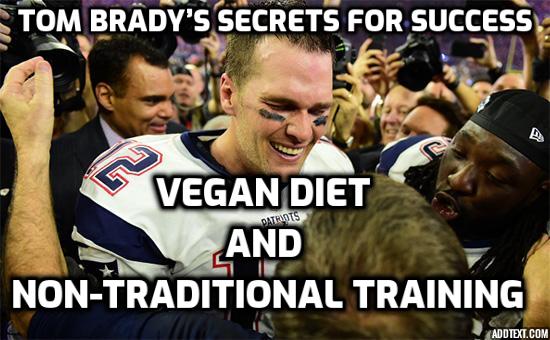 TOM BRADY'S SECRETS FOR SUCCESS: VEGAN DIET AND NON-TRADITIONAL TRAINING
Regardless of who you were rooting for in the Super Bowl last Sunday (February 5 2017), you can't deny that there were some pretty impressive plays on the field that night.
The other thing I can say is that Tom and I both attended the University of Michigan, Ann Arbor, which means I naturally have an affinity for his work ethic.
Since that game, even casual football fans now know Tom Brady as the greatest quarterback in the history of the game, securing five Super Bowl rings and nearly a dozen other records.
But stats aside, there's one thing that many sports fans don't know about Tom Brady: he swears by plant-based foods.
Last year, Boston.com interviewed Tom Brady's personal chef, Allen Campbell, who told the world about what the football powerhouse eats and why. As a chef, Campbell was obsessed with plant-based diets before they were trendy.
He introduced his food philosophy to Brady and his family, which is "that a plant-based diet has the power to reverse and prevent disease." Campbell also shared, "So, 80 percent of what they eat is vegetables. [I buy] the freshest vegetables. If it's not organic, I don't use it."
While 80 percent plant-based is, of course, not a true vegan diet, it's still an impressive commitment that contributes to the 39-year-old's longevity on the field. He sticks to a vegan diet for most of the year but adds some lean meat in the winter months. He's never had a problem maintaining the lean muscle mass required to be competitive on the field.
This is the kind of thing I wish more vegans would appreciate, this lifestyle/diet doesn't have to be an all-or-nothing thing. As a society trying to wrap its mind around how to start eating better, any step in the right direction with going plant-based is positive.
Brady didn't adopt the vegan lifestyle by accident. Everything he does, from nutrition to training and his sleep schedule, is carefully calculated.
Brady has shared that he uses resistance bands about 90 percent of the time instead of lifting weights and switches up his workout routine on land, sand, and water. He sticks to high reps and typically trains twice per day in the off-season and three times per day in-season.
Brady has also practiced muscle pliability training with his Chinese medicine-trained coach, Alex Guerrero. Bodywork exercises like these improve flexibility, mobility, muscle tone, and range of motion.
He meditates for heightened self-awareness, does brain exercises to improve his memory and sharpness, and sleeps by 9 pm in special athlete recovery wear. All of these natural methods of training complement the vegan lifestyle perfectly.
Dedication and consistency are what has kept Brady so level-headed all these years, both in his diet and training regimen. He's gotten stronger and faster with age, which is certainly something that not every professional football player can say.
Brady even released a cookbook with meat-free favorite recipes and started selling his own brand of vegan snacks last year. Vegan cookbooks have been particularly hot lately, so it's little surprise that Brady jumped on this trend. Vegan snacks in the box include cacao goji energy squares, buffalo almonds & ranch cashews, and dark cocoa coconut.
Tom Brady is just one of many famous athletes and bodybuilders who has embraced the vegan lifestyle, but he's an excellent example of what the human body can do when fuelled by plants. Steal his secrets for success, and there's no telling what you can accomplish too.
For topics related to vegan diet and athletic performance, watch this video – Why are so many ATHLETES going VEGAN? 🌱Director Interview w/ Santio Panico
Author Bio:
Chris Willitts (creator of V3), is the founder and owner of Vegetarian Bodybuilding.
V3 Vegetarian Bodybuilding System is a mixture of science and author's advice, providing users with optimal diet and exercise. This system is designed for vegans and vegetarians only.
A lot of research has been put in this program. Furthermore, a lot of professional bodybuilders and athletes tried and tested the program, praising its progressiveness and efficiency.
The program is about taking control of your own body and health according to your potential and needs. And worry not; you'll get plenty of proteins with this system. It will boost you with energy, and you'll feel just a strong as any carnivore would (perhaps even stronger, depending on how much you invest in your exercise). It avoids vitamins deficiency and provides you with a lot of proteins, vitamins, minerals, and antioxidants. 
Instead of saying things like "I think a plant-based diet is good for athletes and bodybuilders," the V3 Vegetarian Bodybuilding System claims "I know a plant-based diet is good for athletes and bodybuilders, and I have results to prove it."
To find out more, visit the website at V3 Bodybuilding – Vegan Diet and Athletic Performance