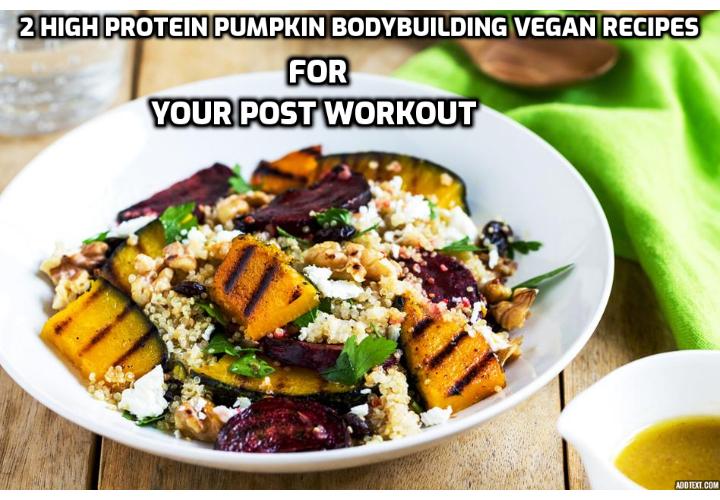 PROTEIN-PACKED PUMPKIN ALMOND BUTTER
This protein-packed pumpkin almond butter is the perfect spread for a hearty sandwich before or after a workout that demands serious fuel.
And let's be real here, it almost feels like cheating, because of the creamy flavor. In fact, this recipe is: vegan, no bake, sugar-free, gluten-free, low carb, and low calorie.
Pumpkin and cinnamon is a sublime combination alone, but the addition of almonds and maple syrup really set it off!
I used cinnamon not only for the taste, but because it is loaded with powerful antioxidants and is well-known for its anti-inflammatory and blood sugar-lowering effects.
Chia seeds are used because they are nutrient-dense and have energy-boosting power. They are also protein-rich and loaded with fiber and omega-3 fats.
Makes: 4.5 cups
Serving Size: 2 tbsp*
Protein: 10 grams
Calories: 110
*I tend to use 4 tbsp on my sandwich because I can't help myself. I also like a thicker sandwich, and it gives me over 20 grams of protein depending on the bread I use (quinoa bread has a lot of protein).
Ingredients
2 cups raw almond butter
2 cups pure pumpkin puree, canned
2 tsp pumpkin pie spice
2 tsp organic maple syrup
1-2 tsp cinnamon (or to your liking)
1/4 cup ground chia seeds
Instructions
In a large bowl, stir together all of the ingredients well. Add vanilla almond milk to adjust the consistency if it's too thick.
Taste, and add flaky sea salt if desired.
Put the pumpkin almond butter into sealable jars, and refrigerate.
This creamy pumpkin almond butter tastes so good, you wouldn't guess that it's sugar-free and has half the calories of other nut butters. To put this in perspective, two tablespoons of natural peanut butter will have 160-220 calories.
I like to put this protein-packed pumpkin almond butter on carrots, celery, pancakes, waffles – you name it.
PUMPKIN SPICE PROTEIN PANCAKE RECIPE
Why wait until fall to have pumpkin spice, this protein pancake recipe will treat you right any time of the year.
You can easily make this into a vegan recipe if you use an egg substitute and a plant-based protein powder. The nutritional profile will change according to egg and protein powder choice, however the figures below are a reliable estimate (give or take).
Carbs: 65.5 | Fat: 9.5 | Protein: 23 | Calories: 397
Yield: 4 servings*
*serving is 2 pancakes (4 tbsp of batter = 1 pancake)
Ingredients
2 cups whole wheat flour
6 large organic egg whites
½ cup canned organic pumpkin
1 servings of protein powder, Garden of Life (vegan option) or BioChem (mixes the easiest)
4 tsp baking soda
½ tsp sea salt
1 tsp cinnamon
1 tsp pumpkin pie spice
2 cups almond milk
1 tbsp coconut oil
2 tbsp of coconut sugar (can also use organic raw sugar, Stevia, or honey)
2 tsp vanilla
coconut oil for coating the pan
Directions
Mix* canned organic pumpkin, organic egg whites, coconut oil, and protein powder together with a spatula.
Stir in the baking powder and wheat flour.
Slowly add 1 cup of almond milk.
Continue to stir as you add in the pumpkin pie spice, sea salt, vanilla.
If you want to sweeten it up a little, add organic raw sugar, coconut sugar, Stevia, or honey.
Slowly add more 1 cup of almond milk. You can add a little more if needed, just be sure the batter stays thick.
Turn your stove on medium heat.
Coat your pan generously with coconut oil using a spatula.
Pour in the batter and cook for three minutes.
Flip your perfect looking protein pancake, and lower the heat a little. Cook until desired fluffiness.
*Mix by hand with a whisk for a slightly lumpy batter or use a blender to for a smoother consistency.
I use this protein pancake recipe a part of a power-packed breakfast or a post-workout reward.
To get more pumpkin bodybuilding vegan recipes, watch this video – 3 SAVORY Vegan Pumpkin Recipes (in One Pot!)
Author Bio:
Chris Willitts (creator of V3), is the founder and owner of Vegetarian Bodybuilding.
V3 Vegetarian Bodybuilding System is a mixture of science and author's advice, providing users with optimal diet and exercise. This system is designed for vegans and vegetarians only.
A lot of research has been put in this program. Furthermore, a lot of professional bodybuilders and athletes tried and tested the program, praising its progressiveness and efficiency.
The program is about taking control of your own body and health according to your potential and needs. And worry not; you'll get plenty of proteins with this system. It will boost you with energy, and you'll feel just a strong as any carnivore would (perhaps even stronger, depending on how much you invest in your exercise). It avoids vitamins deficiency and provides you with a lot of proteins, vitamins, minerals, and antioxidants. 
Instead of saying things like "I think a plant-based diet is good for athletes and bodybuilders," the V3 Vegetarian Bodybuilding System claims "I know a plant-based diet is good for athletes and bodybuilders, and I have results to prove it."
To find out more, visit the website at V3 Bodybuilding – Pumpkin Bodybuilding Vegan Recipes to Build Muscle and Burn Fat