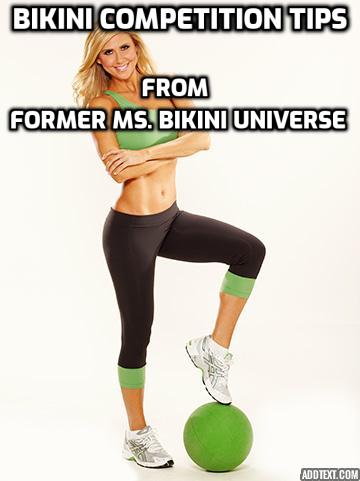 FORMER MS. BIKINI UNIVERSE (VEGAN BODYBUILDER) LOVES MEDITATION
"Thirty days after going vegan (and [I was shown] how to incorporate plant-based proteins), I lost 10 lbs. of inflammation and started feeling better."
Name: Marzia Prince
Occupation: Owner of The Healthy Housewives, Gaspari Nutrition sponsored athlete, professional fitness model, certified fitness trainer, plant-based nutrition expert, published writer for Natural Muscle magazine, fitness editor for Viva Glam Magazine, vegan nutrition blogger for FitnessRx for Women Magazine, Sun Warrior Ambassador.
Age: 40
Height: 5'9″
Weight: 135 lb, 125 lbs (contest ready)
Type of Fitness: Bikini competitor, vegan bodybuilder, yoga
Fitness Accolades: 2007 Ms. Bikini Universe, IFBB Bikini Pro
Website: www.marziaprince.com
Facebook: facebook.com/marziaprincefitness
Instagram: instagram.com/marziaprince
Twitter: twitter.com/marziaprince
What uncommon activity do you schedule into your daily routine?
Positive self-talk and self-love. Most often, we give ourselves to our family, friends, and work so that we forget about ourselves. I am not talking about just gym time sculpting the body or a pedicure, but reading to enrich ourselves positively and telling ourselves it is ok in life day to day.
I am HUGE on reading books about self-love and acceptance. The sooner you love yourself and accept who you are, life is so much better! Also, I started meditating a few years back, and now I meditate daily.
How did you get into meditation? How does it help you?
I write for Natural Muscle Magazine, and I always pick a topic that relates to health and write about it.
I was so intrigued with it that I picked up a few books about it and researched it on the Internet. It took lots of discipline and practice in the beginning, because I am very high-energy.
I fell in love with it because meditation helps balance my energy. I feel like it is very personal me time to help keep my life centered.
"I try to do it first thing in the morning to set my intentions (and get centered) for the day, but sometimes that doesn't happen due to my hectic schedule. If that happens, then I do it at night to decompress."
Deep breathing and letting go of unwanted energy and thoughts help me cleanse my mind.
If you are new to it, I highly suggest Tara Stiles and Gabrielle Bernstein for meditation books and videos. I just love them.
They helped me embrace my health bliss. I am truly at a great place in life!
What has been the hardest obstacle for you to overcome in your life?
Self-love and acceptance have been the biggest obstacles. I was my biggest critic to myself for so many years.  I can honestly look in the mirror now and love the person back.
"I had to learn to get out of my own way."
I had to learn to love myself even through all my mistakes, and it was ok to fail. Failure has been my best teacher so far in life. I have learned so much about myself that I am constantly learning how to be a better person for me, my family, my friends, my clients, and anyone else I cross paths with.
Why did you become vegan? How has your health improved?
I initially became vegan due to health issues. Before Paleo was popular, I kind of followed a Paleo type of diet for competition dieting (without the bacon and butter!). I have always been a tall thin girl. Lifting weights gave me curves.
When I started learning about a bikini competition diet, I had a bodybuilder competition coach that told me to eat all this meat to gain more muscle.
They said I was "too skinny" (I was 5'9″ and 130 lbs), so he put me on a "meat competition diet."
I have always been a natural bikini bodybuilder, so I ate organic chicken, turkey, and wild fish at that time. I never was a fan of red meat. So I never ate that.
"The meat competition diet worked at first. I looked good for shoots, competition, and appearances. But after years of eating that way, I started gaining weight, and not good weight as in muscle. I was gaining inflammation and ballooned up from 130 to 160 lbs."
I was breaking out on my face, holding a lot of water, and feeling sluggish. My energy levels were shot! I still did not want to believe my diet was the issue.
I was "eating clean," and there was no way my nutrition did that to me. I was very disciplined to that diet. It wasn't till I landed in the hospital with kidney stones that the doctor said it was my high consumption of meat.
I was like "WHA???" So he turned me over to a registered dietitian, and she suggested I do a vegan detox diet cleanse for 30 days. I was resistant! I was like "No way! I am going to lose all this hard-earned muscle eating lettuce. I am skinny, and I need to keep my weight for competition and shoots." LOL! I had no idea at that time!
I have always been a disciplined person, so I listened to her. Thirty days after going vegan (and she showed me how to incorporate plant-based proteins), I lost 10 lbs. of inflammation and started feeling better. It was enough to sell me it was healthier for me. I started researching vegan bodybuilding, and you can say the rest is history!
Years later, I gained 10 lbs. of muscle on a vegan diet. Who knew!
Why do you feel a competition diet can only be done short-term? 
Whether you are a meat-eater, vegetarian, or vegan, I believe a competition diet is short-term. You can't live on that diet forever. It is missing important nutrients and calories to sustain life. It can be done only for a shoot or competition to achieve a certain look. You want to live life to the fullest and nourish your body every day.
There's definitely an advantage to being a plant-based athlete, I'm leaner and more muscular compared to when I was eating meat. I never have to worry about gaining a ton of weight on the "off-season." I'm only 5 lbs. off from a shoot or stage.
I adjust my nutrition to my goals. As a trainer, I believe the body is always changing. You are not going to look the same at 30 years-old than you do at 40 years-old. Things change. Goals change. Life changes.
I used to workout and eat for looks. Now I work out and eat for health.
Favorite easy vegan dessert recipe?
Yonanas! If you haven't heard of this machine, you have to get it. You freeze your favorite fruit and put it through this machine and it makes a soft serve. Summer is coming, and this is a must! If you want abs and dessert, then this is the dessert to eat. My favorite recipe is 1 large frozen banana and 5 large frozen strawberries. You press through machine, and it makes strawberry ice cream. You have to try this, here's an instructional video.
How would you describe your nutrition program?
I LOVE FOOD! When I discovered that you can eat more food being plant-based and retain your muscle and weight, I became a lean, mean, plant-eating machine. I eat all the time. I eat a ton off plant-based food.
I still apply my bodybuilding principles. Only this time, it's vegan bodybuilding. I eat plant protein, clean carbs, and healthy fats. Easy and simple, except I don't count calories anymore. I don't miss that!
What are some common misconceptions about vegetarianism?
"Where do you get your protein?" I used to get so tired of hearing that worn-out question. I understand now that people seriously have no idea where I get my protein. I feel like I need to educate people on this.
I practice patience with a smile and educate them. It is the only way. Vegetarianism is still a new concept among the fitness and bodybuilding world. People are still blown away when you tell them where you get your protein.
What advice can you offer for vegetarian bodybuilders and athletes who are just starting out?
Take it meal by meal and day by day. It is trial and error when you first began.
"What works for me may not work for you. I have trained so many plant-based athletes, and I have to say no two are alike."
Trial and error helps us determine what works for them. I can give them a base to work with, and then we specialize to customize their nutrition. Most beginner vegetarian bodybuilders think you are going to give them that magic format. Uh no, trial and error determines the format!
If you have to pick only three exercises, what would they be and why?
Only three seriously? LOL! Tough call! Large muscle group exercises that works a ton of muscle groups at once like pull ups, lunges, and planks. Upper, lower, and core. Have to get all three.
What are the three biggest trends you see in fitness right now?
Online workouts from: HIIT exercises (High Intensity Interval Training), at-home body weight exercises, short on time workouts.
What three unique tips can you share that have led to your overall success in life?
Read as many books as you can, take as many courses/classes as you can. Life experiences help pave the way to success! Life has truly begun for me in my 40s. I thought the 30s were awesome until I hit 40.
I feel so blessed, I want to bless others. There is something to say about knowledge and life experience. I have always been a late bloomer in life. Just because you are taking longer than others doesn't mean you failed. Always be a first-rate version of yourself, not a second rate-version of somebody else.
For more ideas related to bikini competition tips, watch this video – Q&A : ALL THINGS BIKINI COMPETITION | Tips and Advice for ALL Competitors/Future Competitors
Author Bio:
Chris Willitts (creator of V3), is the founder and owner of Vegetarian Bodybuilding.
V3 Vegetarian Bodybuilding System is a mixture of science and author's advice,providing users with optimal diet and exercise. This system is designed for vegans and vegetarians only.
A lot of research has been put in this program. Furthermore, a lot of professional bodybuilders and athletes tried and tested the program, praising its progressiveness and efficiency.
The program is about taking control of your own body and health according to your potential and needs. And worry not; you'll get plenty of proteins with this system. It will boost you with energy, and you'll feel just a strong as any carnivore would (perhaps even stronger, depending on how much you invest in your exercise). It avoids vitamins deficiency and provides you with a lot of proteins, vitamins, minerals, and antioxidants. 
Instead of saying things like "I think a plant-based diet is good for athletes and bodybuilders," the V3 Vegetarian Bodybuilding System claims "I know a plant-based diet is good for athletes and bodybuilders, and I have results to prove it."
To find out more, visit the website at V3 Bodybuilding – Vegan Bikini Competition Tips