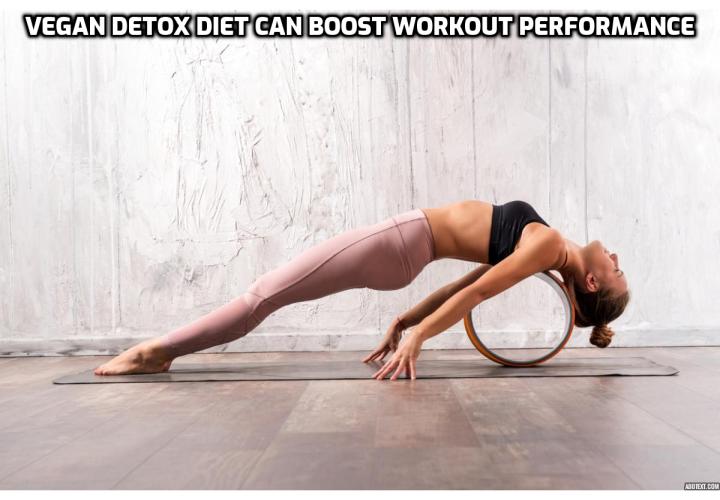 When it comes to nutrition, very few things sound more intense or more restrictive than a vegan detox diet. The interesting this is, when you dig a little deeper you'll discover it has potential benefits for you in the gym.
What is a Vegan Detox Diet?
A typical vegan detox diet revolves around fruits, fruit juices, and teas. These fruits are rich in antioxidants, vitamins, minerals, fiber, and serve as digestive aids.
Although balanced vegan diets tend to be lower in protein than traditional carnivorous diets, they do meet the dietary needs of adult men and women.
According to nonprofit health organization, The Vegetarian Resource Group, almost all foods except for alcohol, fats, and sugar provide some protein.
Vegetarians can get protein by eating everything from lentils to chickpeas, peanut butter, soy milk, spinach, whole wheat bread, broccoli and kale.
In 2008, these detox diets gained popularity when Oprah Winfrey gave it a try. Unlike intense and risky Master Cleanse-style diets that allow only for little more than lemon juice, cayenne pepper, and maple syrup, vegan detox diets are safe and won't shock your system. Going vegan, even if only for a short time, is one of the very least radical forms of detoxification you'll ever find.
Cleansing, rather than weight loss, is the main objective of a detoxification, although dropping extra pounds could be a welcome side effect. Vegan detox diets come in several forms, some requiring strictly organic food and others requiring strictly raw food. No matter which diet you choose, alcohol, tobacco, caffeine, and sugar should have no part in it.
Remove Toxins from Body
The whole point is to remove toxins from body that have been building up in your body over the years. Believe it or not, your body is full of toxins even if you eat healthy and exercise on a regular basis. In David Ewing Duncan's National Geographic article, "Chemicals Within Us," he describes the devastating impact of everyday chemical exposure.
"Each year the U.S. Environmental Protection Agency reviews an average of 1,700 new compounds that industry is seeking to introduce. The agency approves about 90 percent of the new compounds without restrictions. Only a quarter of the 82,000 chemicals in use in the U.S. have ever been tested for toxicity."
Not only do chemical toxins come from our landfills, factories, medications, agricultural pesticides, and household cleaning products, they also come from the meat that we eat.
Animals regularly consume toxins in their food, the water they are given to drink, and the soil they make their homes on.
Humans absorb the toxins when they eat these animals' meat. A 2012 United States Department of Agriculture (USDA) study estimated that Americans eat a yearly average of 52.3 pounds of beef, 57.4 pounds if chicken, and 43.5 pounds of pork per person.
However, according to a recent National Public Radio (NPR) Health Analytics Health Poll, attitudes are changing and 39% of Americans are eating less meat than they did three years ago.
Benefits as a Vegan Bodybuilder or Athlete
First let me say, not all vegan detox plans are created equal, and you have plenty of dietary freedom within the confines of one. Vegan Ironman triathlete, Brendan Brazier, is living proof of how a plant-based diet can make you more athletic and competitive.
Brendan is a two-time Canadian 50km Ultra Marathon Champion and an outspoken advocate for the vegan lifestyle. He and other professional vegan athletes credit much of their success to their detoxifying diets, which boost nutrition density, fight stress, increase energy, improve mental clarity, balance hormones, and facilitate restful sleep.
Protein is essential for athletes to build muscle and increase endurance. The Centers for Disease Control and Prevention suggests that women between ages 19 and 70 consume 46 grams of protein each day and that men between 19 and 70 consume 56 grams of protein each day.
Some of these diets only allow natural fruit-based products, but they are high in sugars and they don't have the nutrients you require as an athlete.
One of the most important aspects of any detox diet is water intake. Not only do you need to rehydrate at the gym, but your body needs water to flush out the more toxins when you start eating healthier.
Since you'll be eating more fruits and vegetables, you'll need more water to stop constipation before it starts. Aim to consume at least 64 ounces of water each day, and keep track of your habits in a diet journal.
Suggested Detox Diet Plans
In the morning, start your day off with a detoxifying yoga session. You can take class at the gym, flip on a YouTube video, or simply do a couple cat/cow stretches beside your bed.
Make the switch from morning coffee to green or herbal tea. Or you can sip lemon water, which is known to detox the liver and stimulate the bowels.
Eat a light breakfast to give your body the energy it needs to start the day. To get your fruits, try papaya, banana, pear, raspberries, and grapes. Soy milk and whole wheat toast are also great options. Try blending up your own vegetable juice with beets, carrots, celery, tomatoes, radishes, and parsley for a mid-morning snack.
Salad is always a great option for lunches because there's so much room to experiment and have variety. Try making your own spinach salad with a mustard vinaigrette dressing with carrot ginger soup. A side of steamed broccoli will give you that extra protein boost you need for a post-work gym session. Step away from the daily grind and go for a walk after lunch to keep your muscles active and your mind at ease.
As you begin your vegan detox diet, don't change a thing about your daily workout routine. Pay attention to your body and notice how you feel as it begins to rid itself of toxins. Make adjustments in your routine as necessary, based on your strength, energy, and motivation.
You can whip up an easy and detoxifying dinner with a cup of brown rice, an ounce of tofu, and a side of antioxidant-rich fruit salad. Seaweed salad, steamed cauliflower, green beans, and snow peas are also great options.
Check out Dr. Luke Fortney's sample recipes for more detoxifying ideas. After dinner, drink a cup of soothing chamomile tea and have a quiet, relaxing evening to wind down and reflect upon your progress.
Become a Well-Oiled Machine
Although there is no exact indicator to suggest that your body is craving detox, there are a good number of telltale signs. A University of Wisconsin School of Medicine and Public Health study found that detoxification can relieve stress, improve your mental state, and decrease negative emotions.
In addition to improved brain function, detoxification helps maintain health and balance in the liver, gallbladder, gut, kidneys, skin, lungs, and lymphatics. If you feel fatigued, experience mood changes, headaches, bloating, weight changes, weakness, soreness, or bowel changes, your body could probably benefit from detoxification.
You should understand that a detox plan is more than just a diet change. If your body is functioning better (a "well-oiled machine"), your workouts will be better and you'll be more likely to accomplish your fitness goals. To get the most benefit from your vegan detox diet, exercise every day, especially out in nature.
Work up a sweat on a regular basis in a hot yoga class or sauna. Make time for self-reflection, in the form of breathing-focused meditation and long walks. Whether you can make a one-week, a one-month, or a lifetime commitment to detoxifying vegan foods, your body and mind will thank you immensely.
For more ideas related to vegan detox diet, watch this video – What I Eat In A Day| Balanced Vegan Diet
Author Bio:
Chris Willitts (creator of V3), is the founder and owner of Vegetarian Bodybuilding.
V3 Vegetarian Bodybuilding System is a mixture of science and author's advice,providing users with optimal diet and exercise. This system is designed for vegans and vegetarians only.
A lot of research has been put in this program. Furthermore, a lot of professional bodybuilders and athletes tried and tested the program, praising its progressiveness and efficiency.
The program is about taking control of your own body and health according to your potential and needs. And worry not; you'll get plenty of proteins with this system. It will boost you with energy, and you'll feel just a strong as any carnivore would (perhaps even stronger, depending on how much you invest in your exercise). It avoids vitamins deficiency and provides you with a lot of proteins, vitamins, minerals, and antioxidants. 
Instead of saying things like "I think a plant-based diet is good for athletes and bodybuilders," the V3 Vegetarian Bodybuilding System claims "I know a plant-based diet is good for athletes and bodybuilders, and I have results to prove it."
To find out more, visit the website at V3 Bodybuilding – Vegan Detox Diet for Bodybuilding
Source: