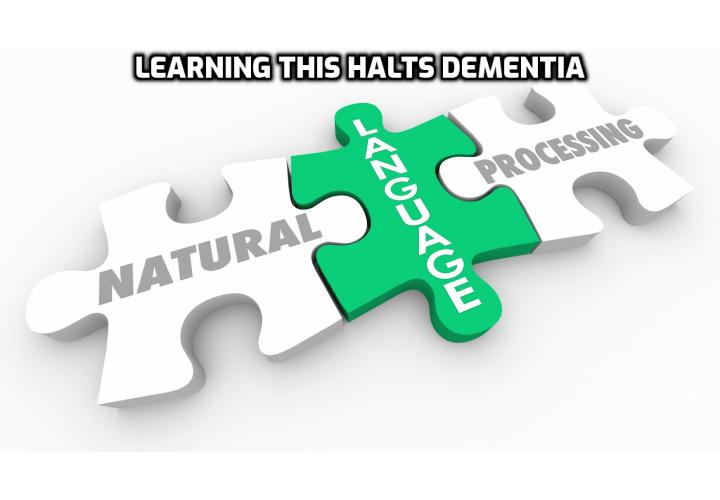 Prevent Dementia and Alzheimer's – Learning This Halts Dementia
I don't think there is anything as widely faired as dementia.
Most of us would rather go fast than have our brains wither away.
A new study from York University therefore comes as welcomed news.
It proves that learning one thing can help you halt, even prevent the onset of dementia.
Researchers recruited 158 people who had all been diagnosed with mild cognitive impairment. They ensured that all the subjects were similar in age, education level, and their level of cognitive function.
They tested their memories every six years over a 5-year period.
The researchers calculated how long it took them to progress from mild cognitive impairment to full-blown Alzheimer's disease and compared the two groups.
Interestingly, while it took the monolingual people 2.6 years to convert, the bilingual people took only 1.8 years.
But does this mean that bilingualism is a bad thing?
It's actually the opposite!
The bilingual patients actually had more neurological brain damage than the monolingual people had at the time they were all diagnosed with the mild impairment.
Their cognitive function was similar when diagnosed with mild impairment, but that does not mean their neurological damage was the same.
Bilingual people have a larger cognitive reserve than monolingual people.
By cognitive reserve, researchers mean that more of our brains get used more often, building stronger neural connections that can serve us well when parts of our brains start to deteriorate.
Language has neuroplastic benefits. Neuroplasticity refers to the process whereby our brains build new physical connections and pathways between neurons and synapses in response to our environments. These synapses can also change permanently if we continue to learn and develop.
We use language all day long and thereby activate regions throughout our whole brains and constantly strengthen those connections.
If we speak and think in two or even more languages, we multiply that benefit.
Doing puzzles or number games can also have a similar effect.
This is why bilingual people function as well as monolingual people do even if they have much worse neurological damage.
In other words, their mild cognitive impairment would have been diagnosed years earlier if they had not built up this cognitive reserve through their bilingualism.
Learning languages and doing puzzles is good for the brain, but to really prevent dementia and Alzheimer's, you need to load your brain with one "ingredient" it's lacking. I'll explain this in details here…
Prevent Dementia and Alzheimer's – These Delicious Foods Stop Alzheimer's Development
Occasionally scientists stumble onto information that is promising not only for people who suffer from diseases, but also for those who just enjoy good food.
A recent study concluded that some genuinely tasty foods may be able to control Alzheimer's disease even better than drugs.
If you enjoy researching natural health topics and following a naturally healthy lifestyle, you have probably heard of polyphenols, the chemicals found in red wine, red grapes, berries, and several other food types. They are powerful antioxidants, which explains why naturopaths recommend them so liberally.
An increasing number of researchers have become interested in the ability of one of these polyphenols to prevent and slow the progression of Alzheimer's disease. It is called resveratrol, and is a prominent ingredient in red wine, red grapes, pomegranate, dark chocolate, peanuts, and soybeans.
In September 2015, Neurology distributed an article in which a team of American researchers demonstrated that resveratrol might be an effective Alzheimer's disease treatment.
Researchers divided 119 Alzheimer's patients into groups that either received resveratrol or a placebo. The resveratrol group started with 500 mg per day, escalated by 500 mg every 13 weeks, for an eventual total of 2 g per day.
By the end of the year, the resveratrol group had approximately the same levels of amyloid-beta40 (Abeta40) in their blood and cerebrospinal fluid as at the beginning of the experiment. The placebo group, on the other hand, had substantially lower levels, an effect that usually accompanies the progression of Alzheimer's disease.
An MRI scan also revealed that the swelling of the brains of the resveratrol subjects had diminished considerably.
While some participants complained of nausea, diarrhea, and weight loss, resveratrol was relatively free of side effects.
The authors warned that they had used a special pharmaceutical-grade resveratrol and claimed that you would have to drink about 1,000 bottles of wine to obtain the same amount. For that reason, together with their relatively small number of participants, they advised that their findings should be further tested, rather than immediately acted upon.
The way in which resveratrol manages dementia is still being researched.
A team at Oregon's Health and Science University reviewed the literature in the journal Brain Research Reviews, and concluded that resveratrol activated sirtuin proteins, which also happen to be activated by low calorie diets.

These proteins have been shown to protect the brain cells of mice with Huntington's disease, a disease that causes dementia and the degeneration of brain cells.
Another study by researchers at the Litwin-Zucker Research Center for the Study of Alzheimer's Disease has established that resveratrol does not inhibit the production of Abeta, but rather promotes its intercellular degradation. In other words, resveratrol kills the Abeta between cells, instead of allowing it to form plaque inside them.
Pure resveratrol supplements are available from natural health stores, and you can further stack your diet with the foods that contain it. Who knows, altogether you might manage to obtain enough of it to protect your brain cells from age-related decline.
Prevent Dementia and Alzheimer's – But there is only one method I know of that drastically improves brain function in both healthy individuals as well as people suffering Alzheimer's and other type of dementia. Learn more and try it out for yourself here…
Prevent Dementia and Alzheimer's – High Blood Pressure Causes Alzheimer's
Research continues in the field of Alzheimer's disease prevention, and new information comes to light almost weekly.
While geneticists are looking for pre-programmed links to developing the disease, other scientists have found that lifestyle indicators bear much of the risk as well- and those can actually be controlled.
For instance- there is a very strong link, newly discovered, between Alzheimer's and high blood pressure.
In a recent study out of VA San Diego Healthcare System, researchers recently confirmed what others had suspected but had no proof of until now. Scientists there found that high blood pressure is directly linked to Alzheimer's disease.
In the study, scientists looked at health indicators for people aged 55 to 100. What they found was that for those with hypertension in the middle-age group, (defined as age 55-70), a specific biomarker that is tied to Alzheimer's disease is present. As the vascular damage increases, so does the biomarker.
The study looked at pulse pressure, which is found by subtracting diastolic (bottom) pressure from systolic (top). The higher the pulse pressure was in the participants, the higher the concentration of amyloid beta or p-tau proteins in their spinal fluid.
These are the biomarkers that are found to be responsible for cell death in the brain that leads directly to Alzheimer's.
Reasons to act immediately to reduce high blood pressure mount almost daily, as the new study reveals. There are easy, drug-free ways to do it that don't involve dangerous side effects or drastic lifestyle changes.
For more ideas to prevent dementia and Alzheimer's, watch this video –  What you can do to prevent Alzheimer's | Lisa Genova
In 3 simple steps, blood pressure can be brought down completely to normal with this all-natural plan that anyone can do…
This post is from the Brain Booster Exercise Program created for the purpose of helping to reverse Alzheimer's, boost memory. It was made by Christian Goodman Blue Heron health news that has been recognized as one of the top-quality national health information websites.  This is an all-natural system that utilizes the power of exercises to slow down, prevent, or even reverse memory loss and boost your brain with energy and power. These exercises work to deliver as much nutrition and oxygen to your starving brain as possible and begin the restoring of the damaged brain cells.
To find out more about this program, click on Prevent Dementia and Alzheimer's