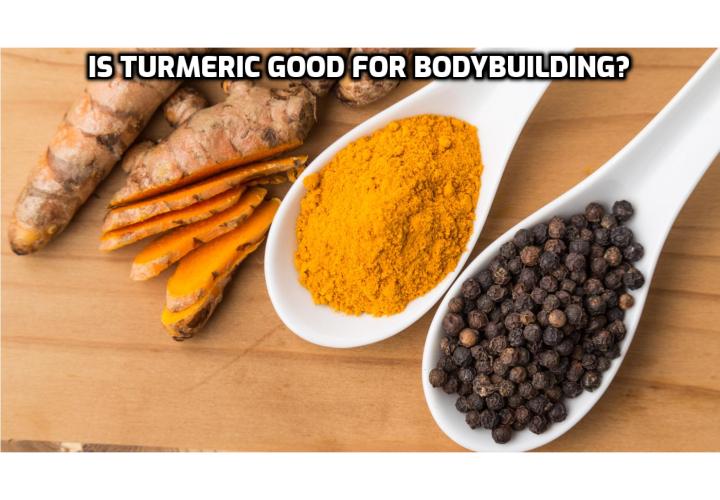 Turmeric is symbolic to the quality of health that vegetarian bodybuilders enjoy.
If you start incorporating just one new spice into your diet this year, make it turmeric.
To get you started, I'm giving you three delicious recipes with turmeric.
Medical researchers, nutritionists, and dietitians have been praising this powerful yellow spice for its anti-inflammatory, antioxidant, and cancer prevention properties.
Since turmeric also aids weight loss, this spice holds a lot of potential for bodybuilders and athletes who need to get in shape for competition season.
If you're just learning about the health benefits of turmeric, it's easy to write it off as a simple curry spice in Indian cuisine. But curry is just the beginning!
There are hundreds of other nutritious and delicious uses for turmeric in healthy recipes and everyday convenience foods. And since turmeric is vegetarian-friendly, it's a great spice for meatless dishes that already give your body the nutrients it needs to perform its best.
What Turmeric Does for Food
Adds a natural earthy taste
Balances and tempers stronger flavors in spicy food
Enhances bland foods with bold, full-bodied flavor
Brightens up neutral-colored ingredients to inspire festive dishes
Simple Foods That Go Well with Turmeric
Pasta and rice
Soups and stews
Leafy green sautés
Open-faced cheese sandwiches before broiling
Blended fruit smoothies
Breakfast Recipe: Omelet with Turmeric, Tomato, and Onion
Ingredients:
4 large eggs or egg substitute
3/8 tsp salt
1 tbsp olive oil
¼ tsp brown mustard seeds
¼ tsp turmeric
2 chopped green onions
¼ cup diced tomato
Dash of black pepper
Preparation:
Whisk eggs and salt together.
Heat oil in a large skillet over medium-high heat. Add mustard seeds and turmeric. Cook 30 seconds or until seeds pop, stirring frequently. Add onions and cook 30 seconds or until soft, stirring frequently. Add tomato and cook 1 minute or until very soft, stirring frequently.
Pour egg mixture into pan and spread evenly. Cook until edges begin to set (about 2 minutes). Gently lift edge of omelet, tilting pan to allow some uncooked egg mixture to come in contact with pan. Repeat procedure on the opposite edge. Continue cooking until center is just set (about 2 minutes). Loosen omelet with a spatula and fold in half. Carefully slide omelet onto a platter and cut in half and sprinkle with black pepper.
Yields 2 servings. Enjoy!
Lunch Recipe: Barley Salad with Turmeric, Almonds, and Apricots
Ingredients:
1 ¼ cup pearl barley
3 ¼ cups water
2 ¼ tsp canola oil
¾ thinly sliced red onion
½ cup sliced dried apricots
¾ cup sliced almonds
2 tbsp chopped fresh parsley
2/3 cup plain low-fat yogurt
2 tbsp locally-sourced honey
½ lemon, juiced
¼ teaspoon ground cinnamon
¼ teaspoon salt
Pinch of ground nutmeg
Preparation:
Rinse barley in a fine sieve. Bring water to a boil in a heavy saucepan. Stir in barley, and return to a boil. Cover and reduce heat. Simmer until water is absorbed, about 45 minutes. Cool to room temperature.
Pour oil into a small skillet and place over medium heat. Add onion and saute until golden brown.
In a serving dish, combine barley, onion, apricots, almonds, and parsley. Toss everything together.
In a small bowl, mix together yogurt, honey, lemon juice, cinnamon, turmeric, salt, and nutmeg. Pour over the barley mixture and toss well to combine. Serve at room temperature.
Yields 6 servings. Enjoy!
Dinner Recipe: Roasted Cauliflower with Turmeric and Cumin
Ingredients:
1 cup sunflower oil
1 tbsp ground cumin
2 tsp turmeric
2 tsp crushed red pepper
½ tsp sea salt
4 heads cauliflower–halved, cored and cut into 1-inch florets
1/4 cup pine nuts
2 tbsp chopped cilantro
1 tbsp chopped mint
Preparation:
Preheat the oven to 425°. In a small bowl, combine the oil, cumin, turmeric, crushed red pepper, and salt.
On 2 large rimmed baking sheets, drizzle the cauliflower with the spiced oil and toss well to coat. Lightly season with salt, if desired. Spread the cauliflower in an even layer and bake for about 1 hour, until browned and tender; switch the baking sheets halfway through cooking.
Meanwhile, in a pie plate, bake the pine nuts for about 1 minute, until toasted. Let cool.
Transfer the cauliflower to a large serving bowl. Sprinkle with the pine nuts, cilantro and mint and serve.
Yields 8 servings. Enjoy!
Summary
You can easily make these recipes for a vegan bodybuilding diet as well (use coconut yogurt, 86 the honey, etc.)
Unlike some holistic herbs and spices, turmeric is affordable and easy to find in local grocery stores. The average 7-ounce package or bottle of turmeric powder costs $7 or less, and a bottle of 90 turmeric (curcumin)capsules costs about $7 as well – depending on where you shop.
Always choose non-irridated, organic turmeric because some brands are so chemically-produced that all the healing nutrients get left behind in the processing.
Spices like turmeric don't spoil, but they do lose their strength over time. This means that you have about a year to reap the full health benefits of your turmeric before it begins losing its potency. Turmeric should be stored in a glass or metal container at a temperature below 70-degrees Fahrenheit.
Is turmeric for vegan bodybuilding diet good? Watch this video – Health Benefits of Turmeric | Dr. Josh Axe
Author Bio:
Chris Willitts (creator of V3), is the founder and owner of Vegetarian Bodybuilding.
V3 Vegetarian Bodybuilding System is a mixture of science and author's advice, providing users with optimal diet and exercise. This system is designed for vegans and vegetarians only.
A lot of research has been put in this program. Furthermore, a lot of professional bodybuilders and athletes tried and tested the program, praising its progressiveness and efficiency.
The program is about taking control of your own body and health according to your potential and needs. And worry not; you'll get plenty of proteins with this system. It will boost you with energy, and you'll feel just a strong as any carnivore would (perhaps even stronger, depending on how much you invest in your exercise). It avoids vitamins deficiency and provides you with a lot of proteins, vitamins, minerals, and antioxidants. 
Instead of saying things like "I think a plant-based diet is good for athletes and bodybuilders," the V3 Vegetarian Bodybuilding System claims "I know a plant-based diet is good for athletes and bodybuilders, and I have results to prove it."
To find out more, visit the website at V3 Bodybuilding – Turmeric for Vegan Bodybuilding Diet