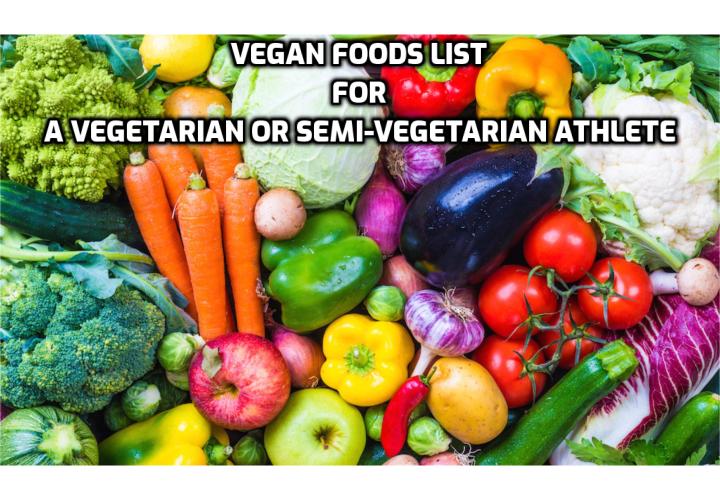 Vegan Grocery List That's Universal
Although this is technically grocery list of vegan foods, it can be used to inform your decisions when shopping as a vegetarian or semi-vegetarian.
Healthy Fats
Healthy fats are a critical part of a plant-based fitness diet. Include a wide selection of items from this list to ensure a good balance of omega-3 and omega-6 essential fatty acids.
Utilize foods like avocado, nuts, and seeds for snacking, but keep an eye on the calorie intake.
Almonds
Avocado
Cashews
Edamame
Hummus
Non-dairy milk (coconut milk, almond, cashew, etc.)
Nut butters (almond, peanut, cashew, etc.)
Oils (flax seed, coconut oil, sesame, olive, canola, etc.)
Pecans
Seeds (flax, chia, pumpkin, sesame, sunflower seeds, etc.)
Tahini
Walnuts
The key here is variety. Load up on all the categories below. Be sure to hit your local farmers' market if possible.
Fresh
Apples
Apricots
Blackberries
Blueberries
Cantaloupe
Cherries
Grapefruit
Grapes
Kiwi
Lemons
Limes
Mangos
Nectarines
Oranges
Peaches
Pears
Plums
Raspberries
Strawberries
Watermelon
Frozen
Apples (sliced)
Apricots (sliced)
Bananas (sliced)
Blueberries
Currants
Cranberries
Dates
Figs
Fruit blends
Mango (sliced)
Raspberries
Strawberries
Sweet cherries
Tip: Hit the freezer. Frozen produce is usually flash frozen at its peak ripeness. This means your fruits and veggies will be more nutrient dense than the standard unfrozen produce.
The key here is variety. Load up on all the categories below. Be sure to get your leafy greens.
Fresh
Asparagus
Avocado
Bell peppers
Broccoli
Carrots
Cauliflower
Celery
Cucumbers
Garlic
Kale
Lettuce
Mushrooms
Onions
Romaine
Salad mixes
Snap peas
Spinach
Squash
Tomatoes
Zucchini
Frozen
Asparagus
Broccoli
Corn
Edamame
Peas
Spinach
Stir-fry mixes
Grains, Beans & Legumes
Keep sprouted bread* on hand for making sandwiches for easy lunches. Stock up on a few different types of beans, legumes, and soy products. Mix and match them and add a vegetable side dish for a complete meal.
*Sprouted bread is a type of bread made from whole grains that have been allowed to sprout, or germinate. Sprouted grains contain less carbs, higher protein, and less fat when compared to whole grains.
Oatmeal is standard-issue for a quick, power-packed breakfast. Avoid instant oatmeal packets.
Beans and Legumes
Chickpeas
Hummus
Kidney beans
Lentils
Veggie burgers
Soy Products
Edamame
Soy milk
Tempeh
Tofu
Whole Grains and Starches
Brown rice
Oatmeal
Russet potatoes
Seitan
Sweet potatoes
Non-Dairy Milk Products
Soy milk is great because it's high in quality protein. Be sure to get non-GMO if possible. The unsweetened version of any of these milks offer the most flexibility for cooking.
Almond milk
Almond yogurt
Coconut milk
Coconut yogurt
Flax milk
Hemp milk
Rice milk
Soy milk
Soy yogurt
Pantry Items
Keep a good selection of condiments, sweeteners, herbs, and spices on hand. They will give life to your meals.
Condiments
Hummus
Lemon/lime juice
Mustard
Nutritional yeast
Salsa
Soy sauce
Sriracha
Vegan mayo
Vegetable bouillon
Vinegar (white, balsamic)
Sweeteners
Cane sugar, raw and organic
Coconut sugar
Dark chocolate chips, organic
Dates
Dried fruits
Fruit preserves
Maple syrup
Molasses
Stevia
Herbs and Spices
Basil
Chili powder
Cinnamon
Cumin
Oregano
Pepper
Salt
Thyme
Turmeric
Cooking and Baking
Apple cider vinegar
Baking powder
Baking soda
Coconut oil
Earth Balance Butter
Ground flax seed
Whole grain flour
Yeast
Vegan Alternatives and Convenience Foods
Vegan alternatives and convenience foods have lots of great uses. They're often loaded with protein, fortified with important nutrients like iron and vitamin B12, and are usually quick and easy to prepare. Many varieties are very tasty and sometimes shockingly similar to the real thing in flavor.
They're useful for transitioning vegans as they become accustomed to a new diet, and are great for making delicious vegan versions of foods like burgers, hotdogs, pizza, mac 'n' cheese, nachos, and much more.
Most vegan substitutes are highly processed, so they're best enjoyed in moderation and shouldn't be relied on consistently for protein or vitamins.
There are quite a few great minimally processed options out there, too; look for veggie burgers made with a base of lentils or beans, marinated tempeh or tofu, seitan, nutritional yeast, unsweetened plant-based milks, and plain yogurts.
Dairy Alternatives
Plant-based milks
Plant-based yogurts
Soy cheese
Daiya cream cheese
Daiya cheese
Soy coffee creamers
Earth Balance butter
Meat Substitutes
Veggie or soy burgers
Veggie or soy hotdogs
Veggie sausages
Tofurky deli slices
Tofurky holiday roast
Tempeh bacon
Textured vegetable protein
Here are some tips to save you a few dollars:
Skip the seitan, tofu, and tempeh; use plain old beans instead.
Buy frozen fruits and veggies instead of fresh produce.
When a recipe calls for fresh herbs, use dried instead.
Make your meals with beans or grains and buy them in bulk at Costco or other wholesale store.
Avoid processed foods whenever possible.
Slow down on the nuts.
Vegan Recipe for Boosting Energy – BUTTERNUT SQUASH TOFU JAMBALAYA
This spicy vegan butternut squash dish has 17 grams of protein per serving.
Like veggie chili, you can easily make this hearty vegan recipe in much larger batches to help alleviate some of the cooking throughout the week. I added two possible modifications at the bottom.
Carbs: 53 | Fat: 7.5 | Protein: 17 | Calories: 338
Yield: 4 servings
Ingredients
4 cups butternut squash
2 cups of organic firm tofu
1 tbsp coconut oil
½ cup red pepper
1 clove garlic, minced
1 tomato, diced
1 tsp vegan Worcestershire sauce
2 tbsp hot sauce of choice
2 cups brown rice, cooked
2 cups organic vegetable stock (Emeril)
1 cup tomato sauce (Hunts)
1 tsp paprika and oregano
3 tsp cayenne pepper
flaky sea salt and pepper, as needed
Possible Modifications
You can add some broccoli for some greens or you can swap the brown rice with quinoa for added protein.
Directions
Get out a large bowl for the veggie prep. Dice the tomatoes. Peel and cut the butternut squash into ½ inch cubes. Cut the tofu in ½ inch cubes, as well.
In a large skillet, heat coconut oil over medium heat. Add garlic, squash, tomatoes, and tofu.
Continue to cook for 2-3 minutes then pour in the vegan Worcestershire sauce, hot sauce, and rice. Cook rice in mixture for 1-2 minutes before adding liquids.
Finally, add remaining ingredients, bring to a boil, and reduce to let it simmer. Keep stirring off and on until the rice absorbs most of the liquid (approximately 20-30 minutes). Remove from heat and serve.
For more ideas about the vegan foods list for a vegetarian or semi-vegetarian athlete, watch this video – How to Build Muscle On A Vegan Diet – The In-Depth Guide
Author Bio:
Chris Willitts (creator of V3), is the founder and owner of Vegetarian Bodybuilding.
V3 Vegetarian Bodybuilding System is a mixture of science and author's advice, providing users with optimal diet and exercise. This system is designed for vegans and vegetarians only.
A lot of research has been put in this program. Furthermore, a lot of professional bodybuilders and athletes tried and tested the program, praising its progressiveness and efficiency.
The program is about taking control of your own body and health according to your potential and needs. And worry not; you'll get plenty of proteins with this system. It will boost you with energy, and you'll feel just a strong as any carnivore would (perhaps even stronger, depending on how much you invest in your exercise). It avoids vitamins deficiency and provides you with a lot of proteins, vitamins, minerals, and antioxidants. 
Instead of saying things like "I think a plant-based diet is good for athletes and bodybuilders," the V3 Vegetarian Bodybuilding System claims "I know a plant-based diet is good for athletes and bodybuilders, and I have results to prove it."
To find out more, visit the website at V3 Bodybuilding –  Vegan Foods List for a Vegetarian or Semi-Vegetarian Athlete