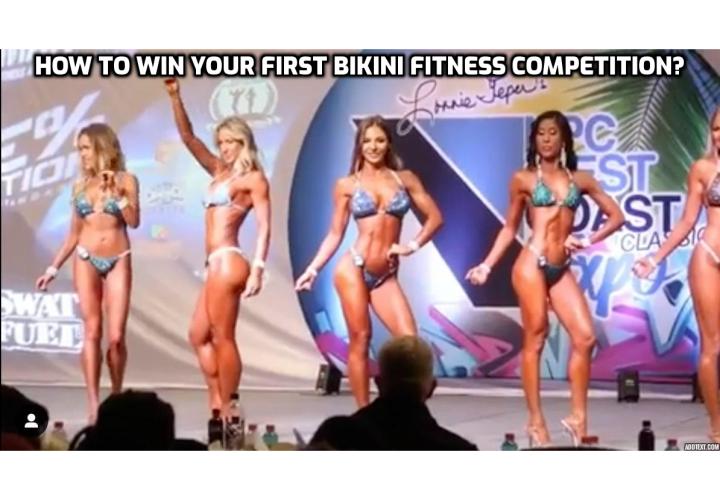 THIS BIKINI BODYBUILDER KNOWS HOW TO WIN COMPETITIONS
"Each workout [for competition prep] is meant to be performed at a heavy volume with hopes of breaking personal records."
Name: Jessica Ortiz
Occupation: Cast Member
Location: Whittier/CA/United States
Height: 5'0″
Weight: 115lbs (off season), 100lb (stage ready)
Training: Bikini Bodybuilding
Fitness Awards:

2014 – Ironman Naturally: 1st Place in Bikini A & 2nd Place in Overall Bikini
2014 – Muscle Contest: 4th Place in Unlimited Open Bikini A
2014 – West Coast Classic: 2nd Place in both Novice A & Bikini A
2015 – Muscle Contest: 1st Place in Bikini A & 4th Place in Overall
2015 – San Diego Championships: 1st Place in Bikini A & 3rd Place in Overall Bikini
Q: Tell us a little about your childhood/life and how you eventually found the vegan lifestyle. 
I was born and raised in San Juan, Puerto Rico, but moved to Southern California with my parents at the age of 13. I have been a vegan for over two years and a bikini bodybuilder for one year, competing under the National Physique Committee.
"I have managed to place in all five competitions and earned four national qualifications."
Having graduated from Cal-State Dominguez Hills with a Bachelor of Arts degree in Sociology, I have a wealth of knowledge and an understanding of the social issues related to diet and fitness. This knowledge, coupled with my love and empathy for all animals, led me to initially become a vegetarian and later, a vegan.
I understand both the health and environmental benefits of living a vegan lifestyle. I decided to become a vegan after my father introduced me to the cruel reality of animal abuse. To me, it's all about the love and compassion for animals, and causing the least amount of harm possible to all living things.
"I consider one of my greatest achievements to be the moment I decided to use my hobby as a way to educate others about veganism."
Q: What has been the hardest obstacle for you to overcome in your life?
Adjusting to change can be difficult, especially when the individual has to cope with stressful and complicated situations. For me, moving to California was one of the hardest things to overcome – a life transition filled with anxiety, feelings of uncertainty, and sadness.
Los Angeles became the unknown territory for me, making it difficult for my family and me to jumpstart a successful life. For instance, middle school became the center point of all my fears. The thought of setting foot in a classroom created a sense of doubt and refusal to attend school. Thanks to my parents' love and support, I was able to fight my fears and continue with my education.
Q: How did you become interested in bikini bodybuilding competitions?
It was through social media that I learned about the beauty and elegance of being a bikini bodybuilder. Seeing stage shots of the competitors triggered a desire to follow in their footsteps. However, I was clueless on what it took to become a bikini bodybuilder.
Thanks to the guidance of my personal trainer, Benigno Tehuitzil, I was then able to step on stage as a "vegan" bikini bodybuilder. Benigno coached me for 12 weeks, guiding me through a strict vegan meal plan. Although it was a very long prep, it was also extremely rewarding.
"The prep taught me about discipline and the value of sticking to your long term goals."
Q: What exercises would you choose if you could only do three?
It's leg day, and the time has come to pre-set the squat cage, to unload the bar, and to prepare yourself mentally for what's about to come. The mind starts to wander, and self-doubt pollutes the brain with negative thoughts.
Out of nowhere, you snap out of the mental struggle, and a rush of empowerment starts running through your veins. Before you know it, you are freeing yourself from all insecurities by fulfilling your mission: to squat.
Being dictated to the weights helped me overcome my fear of the gym. I did this by constantly performing three exercises:
These exercises encouraged me to feel comfortable in the weight room, and are now my favorites. Now I feel in control of my mind and body.
Q: What does your bikini competition prep meal plan look like?
Below, you will find a list of plant-based foods I included into my meals:
Carbohydrates – Oats, jasmine and brown rice, sweet potatoes, and rice cakes
Protein – Tofu, edamame, seitan, tempeh, items by Beyond Meat, and the occasional plant-based protein powder
Healthy Fats – Raw almonds, chia seeds, hemp seeds, and hummus
Q: What did your training look like for a competition?
To build a complete physique during a contest preparation, one can perform isolation exercises.
"For instance, a great movement for isolating the hamstrings is the stiff-legged deadlift. It's an exercise that I've incorporated into all my competitions' prep, for detail and separation."
During the beginning of a prep, I continue to lift heavy by performing four sets with a variation of 15, 12, 10 and eight sets per exercise. Toward the end of the prep, I transition into light volume, high reps at five sets of 15-20 reps routine. Below, you will find the six-day workout split for a competition prep:
Day 1 – Glutes (isolation movements)
Day 2 – Shoulders and Core (end with a 30-min cardio session)
Day 3 – Legs
Day 4 – Rest
Day 5 – Glutes and core (end with a 30min cardio session)
Day 6 – Back, Biceps and core (end with a 30min cardio session)
Off-season is the gateway to gains. After every contest, I create an off-season program, one to keep me motivated to continue working on my weaknesses. This particular off-season, I have been focusing on increasing all around muscle mass.
I still follow the same split as a competition prep, but with a different number of reps. Each workout is meant to be performed at a heavy volume with hopes of breaking personal records.
Q: What advice about fitness in general would you give that you don't commonly see in magazines?
I believe fitness to be an open book.
Most likely, each and every fitness enthusiast will advise future athletes that the key to building a better and stronger physique is dedication, discipline, and willingness to put in the work.
"In my opinion, there is no 'secret sauce' or recipe to fitness."
For those who seek an easy way to get fit, to shred those extra pounds by next week, or to reach a fitness goal fast, I would suggest to stop investing in crash or fab diets.
Instead, invest in long-term goals, goals that will help you tailor your current lifestyle into one that's more fitness-oriented.
For instance, set a goal to stay healthy and fit year round.
Q: What uncommon activity do you schedule into your daily routine?
Fitness is like a full-time job. One that requires discipline and consistency. What for some might seem uncommon, I see it as part of my daily routine. Like the process of prepping meals ahead of time, drinking a gallon of water on daily basis, and scheduling gym sessions before anything else.
"Like I mentioned before, fitness should be a lifestyle and not a goal with an expiration date."
Q: What are some common misconceptions about veganism?
Two years ago, I switched to eating completely vegan. This new lifestyle has given me the opportunity to educate others about the misconceptions of veganism. I address false ideas and myths that could possibly discourage those seeking a healthier and compassionate lifestyle.
For instance, the belief that a plant-based diet is detox is a misconception in a way. Yes, it can be detoxifying and applied a few times throughout the year, but true veganism is a lifestyle, not a once-in-a-blue-moon cleanse. I've learned first-hand that all popular vegan myths are supported by incorrect mainstream beliefs, such as vegans can't build muscle on a plant-based diet.
"Vegans easily get enough protein in their diets."
A vegan diet has tons of plant foods that contain complete proteins. The truth is that we don't need to consume meat to be healthy.
Q: What advice do you have for people who are thinking of becoming vegetarian?
As a vegan bikini bodybuilding competitor and athlete, these protein-rich vegetarian foods were the most beneficial to my muscle development:
tofu
edamame
seitan
tempeh
lentils
chia seeds
almonds
nutritional yeast
peanut butter
I also found myself researching different meat alternatives to help fulfill the desire to consume meat. Plant-based meat alternatives (e.g. veggie burgers) helped make the transition into veganism much easier. I've also tried a variety of plant-based protein powders that contained different protein sources such as pea, brown rice, soy, algae, spirulina, and hemp.
For more ideas on how to win your first bikini fitness competition, watch this video – How To First Bikini Competition
Author Bio:
Chris Willitts (creator of V3), is the founder and owner of Vegetarian Bodybuilding.
V3 Vegetarian Bodybuilding System is a mixture of science and author's advice, providing users with optimal diet and exercise. This system is designed for vegans and vegetarians only.
A lot of research has been put in this program. Furthermore, a lot of professional bodybuilders and athletes tried and tested the program, praising its progressiveness and efficiency.
The program is about taking control of your own body and health according to your potential and needs. And worry not; you'll get plenty of proteins with this system. It will boost you with energy, and you'll feel just a strong as any carnivore would (perhaps even stronger, depending on how much you invest in your exercise). It avoids vitamins deficiency and provides you with a lot of proteins, vitamins, minerals, and antioxidants. 
Instead of saying things like "I think a plant-based diet is good for athletes and bodybuilders," the V3 Vegetarian Bodybuilding System claims "I know a plant-based diet is good for athletes and bodybuilders, and I have results to prove it."
To find out more, visit the website at V3 Bodybuilding – How to Win Your First Bikini Fitness Competition