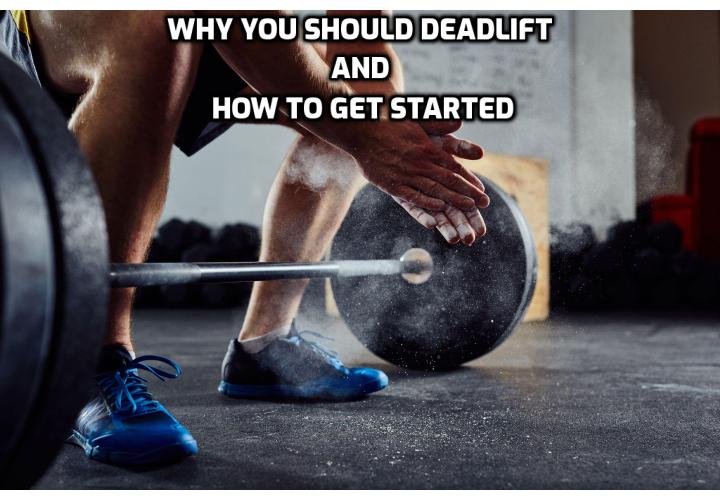 WHY YOU SHOULD DEADLIFT, AND HOW TO GET STARTED
Why aren't more of us doing deadlifts?
Lack of understanding about the exercise and its benefits.
I have a confession to make, I never used do deadlifts. This exercise seemed unnecessary for my goals because I primarily just wanted to look good naked (at that particular time in my life). I also wanted to be strong as hell too, but I just assumed deadlifts were more for professional bodybuilders and powerlifters.
The reality is that deadlifts can benefit anyone who wants a stronger, sexier body. And ladies, they work your butt quite nicely by the way.
Why deadlift, what's the point?
The deadlift is the most important compound exercise next to the squat because it activates virtually every muscle in your body with the heaviest weights possible. Secondly, they will teach you to pick things up off the ground with a straight back; this will prevent injuries like hernias.
Why are deadlifts a legendary exercise for bodybuilders?
Lengendary? Yes, this is because the pulling movement is one of the most effective movements for overall lower-back and leg strength. Deadlifts hit your quads, hamstrings, glutes, and entire core. Between doing these and squats I literally don't find it necessary to do any extra ab-work.
How to Deadlift Properly
Deadlifting is picking a weighted barbell up off from the ground to a resting position around hip level. This exercise can be intimidating and awkward at first, but if you start with the fundamentals you can rock this exercise in no time:
Stand behind a barbell that is placed on the floor in front of you. Your stance is about shoulder width apart with your feet pointed ahead.
You should now lower your butt until your quads are roughly parallel to the floor. The bar should be just ahead of your shins.
Place your hands about shoulder width apart, maybe slightly outside your legs, the right overhand and the left underhand (or the other way around if it feels better).
With a slight arch in your back push with your legs so that the bar clears your knees and comes to rest at your upper thigh.
Lift the bar by pushing your legs through the floor, while maintaining your chin up (face directly in the mirror) and chest up. Do not, sway your back or lift the bar off the floor by locking out your legs so your back is bent over the bar. Maintain the erect position, chin up and chest up pulling all the way up till you are at arms' length the bar is stopped at thigh level. And most importantly do not "Shrug" or lean backward.
Lower the bar by pushing your hips back first, and then bend your knees once the bar reaches knee level.
Tips to Avoid Injury
Start with super-lightweight to develop proper form.
Avoid any kind of jerking movements, this should be smooth from top to bottom.
Your arms should be hanging straight down to your sides the entire time. You could tear a bicep if you pull the weight with your arms.
Do not let your knees bow in and out.
Push your feet through the floor and keep the weight as close to your center of gravity as possible.
Concentrate on keeping a nice arch in the back with your chest up and chin up, and eyes looking straight ahead. Never round your back at any time.
For more ideas on why should add deadlift for your bodybuilding routine, watch this video – How to Perform the Deadlift for Growth (5 Mistakes You're Probably Making)
Author Bio:
Chris Willitts (creator of V3), is the founder and owner of Vegetarian Bodybuilding.
V3 Vegetarian Bodybuilding System is a mixture of science and author's advice,providing users with optimal diet and exercise. This system is designed for vegans and vegetarians only.
A lot of research has been put in this program. Furthermore, a lot of professional bodybuilders and athletes tried and tested the program, praising its progressiveness and efficiency.
The program is about taking control of your own body and health according to your potential and needs. And worry not; you'll get plenty of proteins with this system. It will boost you with energy, and you'll feel just a strong as any carnivore would (perhaps even stronger, depending on how much you invest in your exercise). It avoids vitamins deficiency and provides you with a lot of proteins, vitamins, minerals, and antioxidants. 
Instead of saying things like "I think a plant-based diet is good for athletes and bodybuilders," the V3 Vegetarian Bodybuilding System claims "I know a plant-based diet is good for athletes and bodybuilders, and I have results to prove it." To find out more, visit the website at V3 Bodybuilding – Add Deadlift for Your Bodybuilding Routine