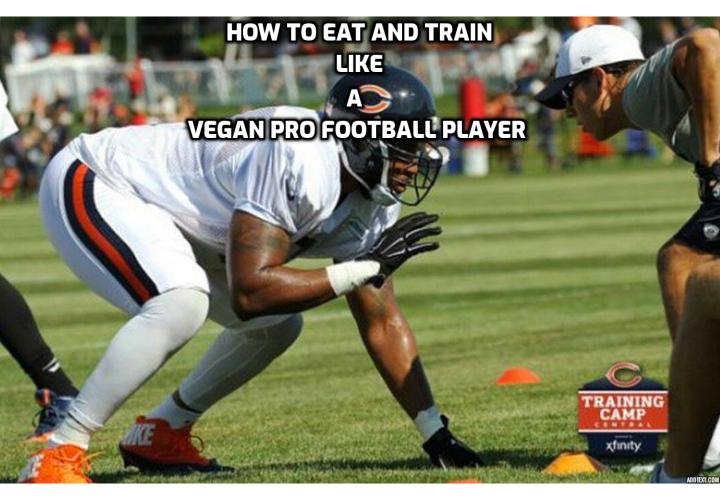 Click HERE to Find Out How You Can Build Muscle & Lose Fat By Eating Plants
VEGAN PRO FOOTBALL PLAYER WHO PRACTICES YOGA
"Since going vegan, I have seen dramatic improvements in my overall health. I'm heavier, stronger, faster, and healthier. "
Name: David Carter
Profession: Chicago Bears Defensive Lineman
Hometown: Los Angeles, CA, USA
Height: 6'6''
Weight: 305lbs.
Website: http://www.the300poundvegan.com
Chicago Bears defensive lineman David Carter suffered from tendonitis and fatigue in the first few years of his NFL career, and in 2014, he decided to switch to a vegan diet.
Carter lost 40 "unhealthy" pounds on his new plant-based diet and then gained lean muscle and eventually got back up to 305 pounds.
Now, Carter says he's stronger than ever.
Q: Tell us a little about your childhood/life and how you eventually found the vegan lifestyle.
After being released from both the Arizona Cardinals and the Dallas Cowboys, I knew I needed to make a change. My old injuries from college were resurfacing, I was losing weight, and things like nerve damage, tendonitis, high blood pressure, and early onset arthritis were finally taking their toll on me.
"I wanted to heal myself from the inside out, and I didn't want to be on prescription medication, so I started doing some research about veganism."
I was no stranger to the concept of a plant-based lifestyle; my wife has been vegan for six years. So after binge-watching all the vegan documentaries, I decided I was going to go vegan.
Q: What are you up to these days besides playing ball? What else would you like to be known for?
I would like to be known for my activism. I hope to be known as someone who helped people to open their minds to the possibility of positive change for everyone: animals, the planet, and people.
There is no reason we can't all co-exist. As far as what I'm doing right now, I'm currently in training camp with the Chicago Bears, so right now my life is all football, all the time.
Q: Do you meditate?
Yes, I do. Most of the time, I do my meditation at the end of my yoga practice. So it's really easy for me to just flow into, since the yoga puts me in a calm, peaceful space.
But when I'm sitting down to meditate without having done yoga prior, it's a little different.
"When I need to feel centered or clear my mind, I just sit, close my eyes, and start to focus on my breath."
Doing that for 15-30 minutes really helps me clear my head and recharge.
Q: What has been the hardest obstacle for you to overcome in your life?
I'm always working on evolving. Growing constantly is a challenge, so it's important to me. In football, in my activism, and in my personal life, I try and keep myself open to learning. Sometimes, people get in a place where they feel like they know enough to be the one teaching.
"I think we should all work on just being the student first."
Q: What advice would you give your 13-year-old self?
Never, ever quit, because sometimes, when you're standing for what's right, it means you'll be standing alone.
"So no matter what or how big the mountain is, just start climbing."
Q: What are the dirty little secrets of Pro Ball?
There are no dirty little secrets in the league! Everybody's business, good and bad, is unfortunately aired for the public, and the show "Hard Knocks" is as close to the truth as it gets. So there's nothing really for me to give away.
Q: What exercises would you choose if you could only do three?
Push-ups
Burpies
Push-ups: They are so versatile, there are hundreds of types you can do.
Burpies: They're an awesome full body workout.
Squats: You can't forget about working your lower body; plus, they are extremely effective and help with explosiveness.
Q: What does your daily meal plan look like?
Ha! It looks like a lot of food! I'm taking in 10,000 cals/day and around 300g of protein.
"I try to eat 1.2 grams of protein per pound [of bodyweight]; otherwise, it's hard to gain weight."
Breakfast: I mainly have a shake in the morning, then a large amount of rolled oats or millet with nuts and fruit for breakfast. I like having hearty grains in the morning.
Lunch: Most of the time, it's lots of veggies and a grain. I love Mexican food, so I eat a lot of rice and beans and cashew cheese.
Dinner: I also like stir-frys, so for dinner, sometimes I eat a noddle stir-fry with veggies and spring rolls. There is so much variety in my food, I can't give a specific look into what I eat. It's different every single day.
Snacks: I have a big snack or shake in between each meal.
Q: What advice about fitness in general would you give that you don't commonly see in magazines? Your "secret sauce"?
Come on now, Chris, I can't give away everything.
Q: What uncommon activity do you schedule into your daily routine?
Well, it's not uncommon for me, but I like to add a little martial arts and yoga to my routine.
"It's important for me to be a well-rounded athlete. Martial arts helps with my hands, and yoga is great for flexibility and distressing and resetting the body."
Q: What are some common misconceptions about veganism?
One of the biggest misconceptions people have about vegans is that they believe removing animal products will make you weak. That couldn't be further from the truth.
"Since going vegan, I have seen dramatic improvements in my overall health. I'm heavier, stronger, faster, and healthier."
My recovery time and endurance have improved after becoming vegan, so I actually train even harder than before.
Q: What advice do you have for people who are thinking of becoming vegetarian?
The best advice I can give is to take it easy on yourself. Set yourself up for success. Preparation has been really important for me. I did my research, so I knew what I was getting myself into, and kept it simple.
"Making the switch to vegan or vegetarian shouldn't be complicated."
Q: Best piece of advice for people just trying to live a good life?
Being true to yourself is so important. Having peace and happiness for yourself first is the only way you can bring peace and happiness to others.
So working on being the best you is the first step to living your best life.
"The more real and honest you are with yourself, the easier life becomes."
To find out how to eat and train like a vegan pro football player, watch this video – I Ate Like Cristiano Ronaldo For A Day
Author Bio:
Chris Willitts (creator of V3), is the founder and owner of Vegetarian Bodybuilding.
V3 Vegetarian Bodybuilding System is a mixture of science and author's advice, providing users with optimal diet and exercise. This system is designed for vegans and vegetarians only.
A lot of research has been put in this program. Furthermore, a lot of professional bodybuilders and athletes tried and tested the program, praising its progressiveness and efficiency.
The program is about taking control of your own body and health according to your potential and needs. And worry not; you'll get plenty of proteins with this system. It will boost you with energy, and you'll feel just a strong as any carnivore would (perhaps even stronger, depending on how much you invest in your exercise). It avoids vitamins deficiency and provides you with a lot of proteins, vitamins, minerals, and antioxidants.
Instead of saying things like "I think a plant-based diet is good for athletes and bodybuilders," the V3 Vegetarian Bodybuilding System claims "I know a plant-based diet is good for athletes and bodybuilders, and I have results to prove it."
To find out more, visit the website at V3 Bodybuilding – How to Eat and Train Like a Vegan Pro Football Player