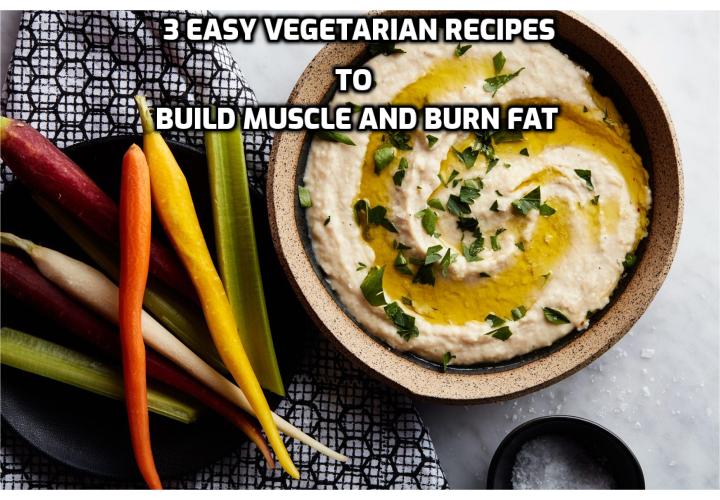 EASY 5-INGREDIENT VEGAN MEATBALLS
These vegan meatballs are super-easy to make and are good for a hearty meal or post-workout snack.
You can either smother these in your favorite pasta and marinara, or if you're going low-carb, eat them individually without the pasta and dip them in marinara.
Carbs: 26 | Fat: 13 | Protein: 14 | Calories: 245
Yield: 10 meatballs (a serving is two meatballs)
Ingredients
3 garlic cloves, minced
1 flax egg
8 ounces tempeh* (or substitute 1 heaping cup rinsed and drained chickpeas for similar result)
1/2 cup vegan bread crumbs
2 tsp. Italian seasoning
Flaky sea salt to taste (add pepper if desired)
*Coconut oil for sautéing
Instructions
Preheat oven to 375 degrees.
Prepare flax egg (or other vegan egg substitute) in a small dish.
In a large, deep skillet, sauté garlic in 1/2 tbsp. coconut oil over medium heat until soft (3 minutes). Set aside.
Add tempeh to blender and pulse to break up. Then add sautéed garlic and remaining ingredients (except coconut oil) and mix. The goal is a moldable dough.
Taste and adjust seasonings as needed. The tempeh will come across as a little bitter, but once coated, baked, and served with marinara, it's not nearly as apparent.
Scoop out 2 tbsp. amounts of dough and roll into balls (should make about 10 meatballs). Heat the skillet you used earlier to medium heat.
Mix remaining bread crumbs and add tempeh balls one or two at a time and roll to coat.
Add enough coconut oil to form a thin layer on the bottom of your hot skillet, then add your coated tempeh balls in two batches, so as to not crowd the pan. Brown for about 5 minutes total, shaking the pan to roll them around to brown all sides.
Add browned meatballs to a baking sheet and bake for about 15 minutes, or longer if desired for a crispier result.
At this time, prep any pasta you want to serve with your meatballs, as well as your favorite marinara sauce.
Once meatballs are deep golden brown and fairly firm to the touch, remove from oven.
 BUTTERNUT SQUASH TOFU JAMBALAYA
This spicy vegan butternut squash dish has 17 grams of protein per serving.
Like veggie chili, you can easily make this hearty vegan recipe in much larger batches to help alleviate some of the cooking throughout the week. I added two possible modifications at the bottom.
Carbs: 53 | Fat: 7.5 | Protein: 17 | Calories: 338
Yield: 4 servings
Ingredients
4 cups butternut squash
2 cups of organic firm tofu
1 tbsp coconut oil
½ cup red pepper
1 clove garlic, minced
1 tomato, diced
1 tsp vegan Worcestershire sauce
2 tbsp hot sauce of choice
2 cups brown rice, cooked
2 cups organic vegetable stock (Emeril)
1 cup tomato sauce (Hunts)
1 tsp paprika and oregano
3 tsp cayenne pepper
flaky sea salt and pepper, as needed
Possible Modifications
You can add some broccoli for some greens or you can swap the brown rice with quinoa for added protein.
Directions
Get out a large bowl for the veggie prep. Dice the tomatoes. Peel and cut the butternut squash into ½ inch cubes. Cut the tofu in ½ inch cubes, as well.
In a large skillet, heat coconut oil over medium heat. Add garlic, squash, tomatoes, and tofu.
Continue to cook for 2-3 minutes then pour in the vegan Worcestershire sauce, hot sauce, and rice. Cook rice in mixture for 1-2 minutes before adding liquids.
Finally, add remaining ingredients, bring to a boil, and reduce to let it simmer. Keep stirring off and on until the rice absorbs most of the liquid (approximately 20-30 minutes). Remove from heat and serve.
POWERFUL PINEAPPLE GINGER TURMERIC TONIC
Three potent anti-inflammatories join forces to foster pain relief and healing.
Pineapple has been used for centuries to reduce pain and inflammation. The science behind this is a mixture of enzymes called bromelain. Studies have shown that bromelain reduces swelling, bruising, healing time, and pain.
According to the University of Maryland Medical Center:
"Bromelain is a mixture of enzymes found in pineapples (Ananas comosus) that digest protein (proteolytic). Pineapple has been used for centuries in Central and South America to treat indigestion and reduce inflammation.
Bromelain, which is derived from the stem and juice of the pineapple, was first isolated from the pineapple plant in the late 1800s. The German Commission E approved bromelain to treat swelling and inflammation after surgery, particularly sinus surgery.
"Bromelain can be used to treat a number of conditions. But it is particularly effective in reducing inflammation from infection and injuries."
Two more potent anti-inflammatories added to this tonic are ginger and turmeric, whose analgesic properties have been proven stronger than ibuprofen. If you train as hard as I do, this can come in handy!
To amplify the nutritious kick of those ingredients, let's introduce celery into the mix. Celery is an excellent source of vitamin K. It is also a good source of folate, potassium, fiber, vitamin B2, copper, vitamin C, vitamin B6, calcium, phosphorus, magnesium, and vitamin A (in the form of carotenoids).
Seriously folks, this tastes pretty damn good:
2 cups ripe pineapple
1 cup ripe mango
4 stalks of celery
1 knob of ginger
½ inch turmeric root (also add 1 tsp. black pepper, helps absorption)
1 cup of coconut water (not from concentrate)
1 tsp. fresh vanilla
*Add your favorite vanilla-flavored plant-based protein powder to make this a potent healing protein shake.
To get more ideas about vegetarian recipes to build muscle and burn fat, watch this video – EASY HIGH PROTEIN MEAL PREP 2020 | LOSE WEIGHT & BUILD MUSCLE!
Author Bio:
Chris Willitts (creator of V3), is the founder and owner of Vegetarian Bodybuilding.
V3 Vegetarian Bodybuilding System is a mixture of science and author's advice, providing users with optimal diet and exercise. This system is designed for vegans and vegetarians only.
A lot of research has been put in this program. Furthermore, a lot of professional bodybuilders and athletes tried and tested the program, praising its progressiveness and efficiency.
The program is about taking control of your own body and health according to your potential and needs. And worry not; you'll get plenty of proteins with this system. It will boost you with energy, and you'll feel just a strong as any carnivore would (perhaps even stronger, depending on how much you invest in your exercise). It avoids vitamins deficiency and provides you with a lot of proteins, vitamins, minerals, and antioxidants. 
Instead of saying things like "I think a plant-based diet is good for athletes and bodybuilders," the V3 Vegetarian Bodybuilding System claims "I know a plant-based diet is good for athletes and bodybuilders, and I have results to prove it."
To find out more, visit the website at V3 Bodybuilding – Vegetarian Recipes to Build Muscle and Burn Fat