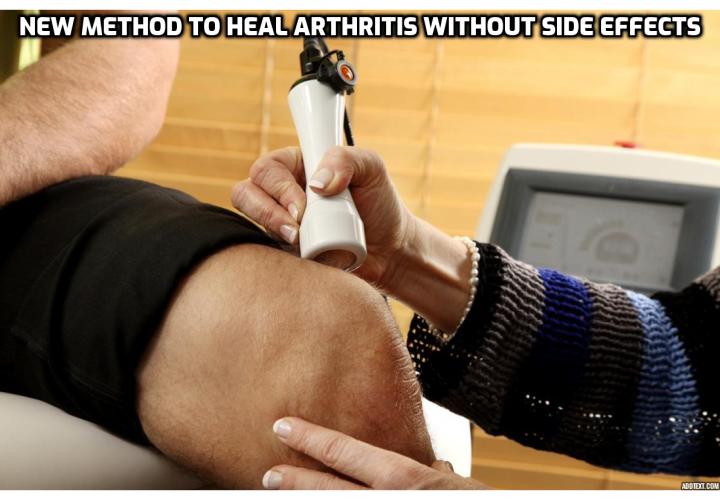 Remedy for Arthritis Pain – The Most Common Arthritis Treatment is Both Useless and Dangerous
The world is becoming increasingly addicted to this ever-growing drug, so much so scientists are starting to call it an epidemic.
As a timely reminder, scientists have just released two studies that show that this class of painkiller is both an ineffective and dangerous treatment for arthritic patients.
Studies presented at the 2019 ACR/ARP Annual Meeting in Atlanta revealed some worrying facts.
Opiates have become commonplace. Seen as a quick temporary pain relief fix, they appear to be handed out like candy. Not only are patients becoming addicted, opiates also come with a host of other problems, some of which can be very dangerous.
The first study showed a big increase in opioid-use disorder hospitalizations among people with five musculoskeletal conditions including osteoarthritis, rheumatoid arthritis, gout, fibromyalgia, and lower back pain.
Because all these conditions involve chronic pain, sufferers are at extreme risk of receiving large opioid prescriptions.
People who constantly take large amounts of opiates will inevitably become dependent on them, not to mention, their effects will eventually wear off. Weaning yourself off opiates can be a long and arduous task, and in some cases, sufferers simply can't come off the drugs due to addiction, and in other cases, the withdrawal symptoms upon cessation of use are devastating. This is the definition of opioid use disorder.
Researchers at the University of Alabama at Birmingham were not interested in the occasional accidental overdoses that happen, but rather in the use disorder.
They found hospitalizations increased 3.5 times for lower back pain and 24 times for gout with the two types of arthritis in-between. They also discovered arthritis patients who use opioids actually get very poor value for their money, especially when considering the addiction risk.
They collected 23 previously published randomized controlled trials with 11,402 subjects. All the subjects had arthritis.
At two, four, eight, and 12 weeks, the subjects reported a very small improvement in pain and function, but it was indeed very small.
In addition, they reported no improvement in quality of life, meaning that the opioids had not improved their quality of sleep, their depression levels, and their willingness to participate in normal life activities.
This is why it is important to find a remedy for arthritis that does not involve opioids, as they are both ineffective and harmful.
Remedy for Arthritis Pain – Here is how I reversed my arthritis in 21 days following 3 simple natural steps. The same solution has worked for hundreds of others…
Remedy for Arthritis Pain – Arthritis Prevented with This Vitamin… BUT!
Vitamin D has recently been promoted as a magical solution for almost everything. And for good reason.
It has been proven to help prevent arthritis.
However, there is a strange angle to the issue if you have already developed arthritis. Then, the use of vitamin D is a whole different story.
In a study published in the Journal of Autoimmunity, scientists examined the synovial fluid and blood from people with and without active rheumatoid arthritis.
They reached some interesting conclusions:
People with rheumatoid arthritis had lower levels of vitamin D in their bodies than their healthy peers did.
While vitamin D is usually a great suppressant of inflammatory cytokines, once an area is seriously inflamed, it becomes resistant to the positive effects of vitamin D.
That is, inflamed cells do not allow vitamin D to reduce their inflammation.
This means that vitamin D can help to prevent inflammatory diseases like rheumatoid arthritis, but it won't be as effective for people who have already developed these conditions, unless they can get huge amounts of it directly into their affected joints.
This could also indicate that the standard amount of vitamin D needed for people already suffering arthritis should be much higher than those who haven't developed the disease.
Generally, it's recommended to spend 20 minutes outside in direct sunlight every day. If you have arthritis, you'll want to spend much more time outside.
If you're going for supplementation, make sure it contains between 1500 and 5,000 IU (International Units) of vitamin D3 per day.
Remedy for Arthritis Pain – Fortunately, you can completely reverse your arthritis in 21 days using the 3-steps found here…
Remedy for Arthritis Pain – New Method to Heal Arthritis Without Side Effects
In the past two years, several scientific articles appeared in academic journals that discussed the effectiveness of a new, non-invasive and hugely effective treatment for the relief of arthritis pain, inflammation and the restoration of movement in affected joints .
This method is inexpensive and causes no side effects.
In the 2016 edition of the journal, Lasers in Surgery and Medicine, researchers gave 34 osteoarthritis patients between 5 and 10 low-level laser treatments to various joints.
Before the recommencement of the treatments after 5 and 7 sessions, 8 weeks after the initial treatment, the researchers measured the amount of pain participants experienced, the size of their joints (to check for swelling) and their range of motion.
They found huge positive effects on all three these factors after 5 and 7 treatment sessions, and the effects lasted for 8 weeks.
Those who received more than 7 treatments, however, experienced no further benefits beyond the 7th treatment.
Just before this study, the journal, Lasers in Medical Science published another study in which scientists compared two groups of 50 patients with knee arthritis: one received conventional physical therapy and the other received conventional treatment together with low-level laser therapy.
While 9 of the conventional therapy patients needed a knee replacement after 6 years, only 1 patient in the combined therapy group did, showing that low-level laser therapy is extremely effective and should be incorporated in arthritis treatments.
Low-level lasers are simple, non-destructive, red or infrared light between the wavelengths of 600nm and 1000nm (nanometres).
They're very safe and you can even get similar home-use devices.
The exact mechanisms through which lasers relieve arthritis symptoms are not yet understood, but it is known that light at these wavelengths enters cells and warms them. This seems to promote energy production inside the cells together with other poorly understood chemical changes.
For more ideas on remedy for arthritis pain, watch this video – What Home Remedies Help Reduce Arthritis Pain?
Remedy for Arthritis Pain – Even if lasers can improve your arthritis, they won't cure it. For that, you need to follow the 3 simple steps found here…
This post is from the Arthritis Strategy Program. It was created by Shelly Manning, a former arthritis sufferer and a health consultant.
A Brief Background on the Author
Like you, Shelly Manning also suffered from arthritis, particularly osteoarthritis. This was due to her weight and desk job. Her condition eventually took a toll on her relationship with her (former) husband.
It was when she went to Hong Kong that she met Janerdquo, an old woman who owned the restaurant where she ate. Janerdquo supposedly offered her a bowl of a weird-smelling soup, which helped ease her joint pain. She ate there each day for 10 days until she was completely healed from arthritis.
Shelly Manning decided to research this natural remedy and to create a step-by-step treatment plan to others who are suffering from different types of arthritis, such as gout, rheumatoid arthritis, osteoarthritis, fibromyalgia, and psoriatic arthritis.
That's why she created "The Arthritis Step By Step Strategy." According to her claims, this unique strategy will get rid of joint pain and stiffness, repair your damaged joints, and treat the underlying cause of your arthritis.
Shelly teamed up with Christian Goodman, the owner of Blue Heron Health News, a publishing company that aims to help people to take responsibility for their own health by using natural health alternatives for preventing arthritis in fingers and knees naturally.
To find out more about this program, go to Remedy for Arthritis Pain Without Drugs