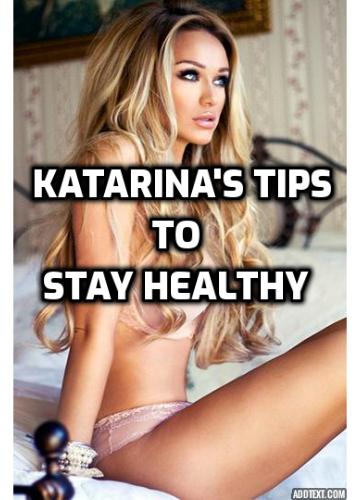 Click HERE to Find Out How You Can Build Muscle & Lose Fat By Eating Plants
MODEL, ACTRESS, ENTREPRENEUR, PHILANTHROPIST, AND VEGAN
"A vegan diet will make you feel invincible, and you will start attracting more positive events. Your whole life will change. You are what you eat on a physical, mental, and spiritual level."
As a model, Katarina Van Derham has landed on the cover of over 60 magazines worldwide and appeared in over 600 major media outlets. She appeared in 21 national and international print and TV commercials and has been voted one of the 100 sexiest women in the world by magazines on three different continents.
Katarina is a Founder, CEO and Editor-in-Chief of classic, glamour lifestyle magazine VIVA GLAM established in 2012. VIVA GLAM offers alternative approaches to traditional lifestyle, with a strong focus on vegan, organic and cruelty free brands.
Being a vegan of 20 years and passionate about animals and nature inspired her to launch her own cruelty-free line of eyelashes KAT lash.
Traveling the world, Katarina hopes to start a foundation to build small vet clinics in the rural parts of the world and islands, where hurt animals are left to die without any chance of getting help. She believes the clinics are also very important due to a need to spay and neuter.
Katarina supports great charities such as SCIL, Peace4Animals and PETA. She has also worked with RedLightChildren.org to help end child slavery and exploitation.
Q: Tell us the story of arriving in the US with only $500 in your pocket at the age of 22.
I grew up in Slovakia during the '70s-90s socialistic system.
My upbringing was very humble but beyond beautiful and loving.
Until I was 10 years old, we didn't have plumbing in the one-bedroom house by the train tracks.
We had to use an outhouse, which had magazine tear sheets plastered all over its inside as an isolation.
I remember always staring at James Dean's cover of Life magazine. I remember thinking how good he looked and that we didn't have men looking like that in Slovakia. I learned to be happy with having very little. I learned the value of life and family and the importance of staying humble and real.
But as did many Europeans during those years, I also got influenced by the Western culture. The music, the movies, and the fashion world became very fascinating to me. I started to realize I didn't really fit in Slovakia and its people's mindset. As a teen, I was very active and always searched for information about the Western world.
My first job was very lucrative. I worked for a French company in the office as a secretary and in accounting and marketing. It was then when I started to feel I was hitting a dead end in my life. For four years, I had a good job, a nice and simple boyfriend, and a daily routine, which was okay.
"Everyone would be asking me the same questions: When are you getting married, and when are you going to have kids? I started to feel as if I was choking."
One day, someone from California came to my work to talk some potential business with my boss. His business card was my ticket out of my situation. I started to think about my options. In the '90s, it was almost impossible to get any type of U.S. visa. Everyone's application was getting turned down.
But not to bore you with all the details, I found a way to get my business visa. Once I did, I called the guy from California to see if he could somehow help me; in 1998, I was on my way to AMERICA. The currency rate exchange was brutal at that time, so I was able to collect only $500 from my family after I paid for my plane ticket.
Once I arrived to California, I was able to start working right away, passing out flyers for a cleaning company for $6/hour, working only four hours a day. That was enough money to buy food and pay for rent, which I shared with another six people in a three-bedroom apartment. I even had to share the bed.
"Looking back now, I don't know how my parents even let me leave. But I know one thing: I owe them big time and am forever grateful they did."
The '90s were so different than now, so the advice I would have for someone who is 22 years old and wants to come to the U.S. now is this: whatever your mind can conceive and believe, it can achieve.
Q: With all of the success you have had (VIVA GLAM, KAT Lash, modeling, acting, etc.), what is your greatest professional achievement?
I feel my biggest success in life is my life journey itself. I reflect on the past a lot, and to be honest, I don't have any regrets.
"I was able to maintain my values, integrity, and never sold myself even when I was broke and had no roof above my head, even when I spent Thanksgiving among the homeless people at the Laugh Factory on Sunset Boulevard or had to sleep in the car."
As a young girl, I was offered many shortcuts to "success and money." I had men getting naked in front of me, trying to take advantage because they knew I had no rights in this country as an immigrant. Somehow I still managed to look at the sun, breathe the California air, and be happy.
Q: Tell us about the charity work you're involved with.
I try to support charities as much as I can, but in life, I've learned you have to choose and focus on one cause because you simply can't be everywhere and help everyone. Since my roots are deeply in nature and being a vegan, I choose to support animal charities.
I believe we need to start with changing and enforcing laws, and that's why my favorite charity is SCIL (Social Compassion in Legislation) and of course, PETA.
Love them or hate them, PETA has changed laws in many countries and positively influenced millions of people around the world.
"I believe if everyone chose and focused on helping one cause, the world would be a much better place. You can't help everyone, but everyone can help someone."
Q: Tell us the story of how you became a vegetarian and how in 2009 after reading Skinny Bitch, you became a vegan.
One beautiful day while taking a train ride with two of my best friends in Slovakia, I got to sit next to a vegetarian. We exchanged a couple of words, and I got really intrigued by this man. I asked him if he really believes people can live without eating meat.
He said, "absolutely," and added that he hadn't eaten meat for over 20 years. I observed his physique; he was lean and had a wrinkle-free face clean of any acne. He was calm. At that time, I was 18 and a big meat eater.
Everyone around me had diabetes, was overweight, and had some kind of illness. I also remember people not being too attractive, and somehow I linked it to eating high amounts of cholesterol and meat.
"So that day, I came home and asked my mom, who had type 2 diabetes and high blood pressure, to make me my last meat dinner. It was a beef stew with cooked potatoes."
I wasn't sure how long I would last as a vegetarian, but I am happy to say that after 22 years, it is still my last meat dinner. My mom was very supportive of it. Four years later, I relocated to the U.S. and enjoyed eating all the American dairy products.
However, as years went by, I learned more and more about the quality of American foods, as well as the animal abuse that goes into it. Someone suggested the book "Skinny Bitch" to me, and that was it for me. I became vegan.
Q: What advice would you give to someone just starting out on this path?
First, it is important to know what a vegan diet and lifestyle does to people.
Becoming vegan will clarify your mind, and you will find answers to questions you've always had and couldn't find.
A vegan diet will make you feel invincible, and you will start attracting more positive events. Your whole life will change.
You are what you eat on a physical, mental, and spiritual level.
Q: What did you eat yesterday?
Yesterday, I ate two slices of bread with Kite Hill vegan cheese, tofurky, and tomatoes for breakfast.
For lunch, I had a chopped salad from PitFire pizza with Daiya cheese, tomatoes, avocado, corn, and all the good stuff that comes with it. For dinner, I had a vegan margherita pizza from the same place.
Q: What does the first 60 minutes of your morning look like?
My first 60 minutes of every morning consists of drinking coffee, catching up on social media, and posting new content while still in bed.
Q: Favorite three exercises and why?
In general, I like to do body resistance training, circuit training, and weight training. I love doing squats because it is the best exercise for my lower body, which is naturally built thicker. I love doing crunches because my mid-section is long and strong and this exercise is pretty easy for me yet very effective. I also love doing push-ups because they make me feel like a superhero.
Q: Fun fact most people don't know about you?
I am double-jointed.
I have a removable tooth in my mouth.
I'm a true Sagittarius woman. That is to say, Sagittarius Archers are fun-loving, free spirits. They are forgiving and have a great sense of humor. But if wronged, watch out! Archers can zero in on an enemy's weakness and retaliate quickly. Energetic Sagittarius loves to travel and has a talent for gambling. Archers don't like deceit or pretension. Their standards are high; they are loyal, intelligent, and honest.
Q: What is the biggest personal challenge you have had to overcome in your life?
My biggest challenge always has been my speech. Growing up I had a speech problem where I couldn't pronounce the letter "r." It is almost in every word. I was made fun of, and eventually, I developed a way of speaking where I was able to completely eliminate words including "r."
As a teenager, I became so good at that, even my boyfriend of six years never knew I had this problem. When I was already living in the U.S., I'd developed very large polyps on my vocal cords. They got so bad that in 2008, I had to have them paralyzed for six weeks.
All that time, I had to walk around with a pen and paper and communicate that way. I still have to be very careful and not overuse my vocal cords. And the last but not the least is the fact English is my fourth language. Especially being a publisher, I struggle with the proper grammar all the time.
"But I work on it every day, and in a way, I find it a good challenge because I'm learning and growing and that always makes me feel alive and human."
To get more fitness model secrets , watch this video – What we EAT in a DAY as Victoria's Secret Models
Author Bio:
Chris Willitts (creator of V3), is the founder and owner of Vegetarian Bodybuilding.
V3 Vegetarian Bodybuilding System is a mixture of science and author's advice, providing users with optimal diet and exercise. This system is designed for vegans and vegetarians only.
A lot of research has been put in this program. Furthermore, a lot of professional bodybuilders and athletes tried and tested the program, praising its progressiveness and efficiency.
The program is about taking control of your own body and health according to your potential and needs. And worry not; you'll get plenty of proteins with this system. It will boost you with energy, and you'll feel just a strong as any carnivore would (perhaps even stronger, depending on how much you invest in your exercise). It avoids vitamins deficiency and provides you with a lot of proteins, vitamins, minerals, and antioxidants.
Instead of saying things like "I think a plant-based diet is good for athletes and bodybuilders," the V3 Vegetarian Bodybuilding System claims "I know a plant-based diet is good for athletes and bodybuilders, and I have results to prove it."
To find out more, visit the website at V3 Bodybuilding – Fitness Model Secrets on How to Stay Healthy