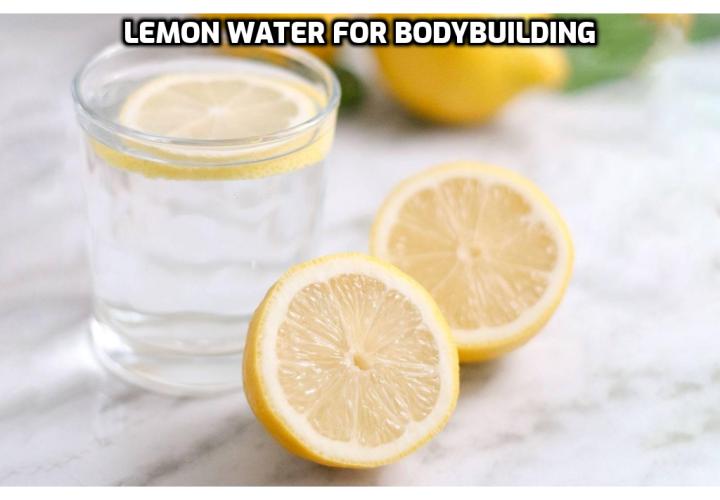 Lemons can be consumed internally and externally for various benefits, such as clearing skin from acne, balancing pH levels, energizing our body, and enhancing our mood.
Truth be told, the natural healing powers of lemon juice have been known for centuries.
Almost a year ago, a friend recommended that first thing in the morning before I eat anything, I should drink warm water with fresh-squeezed lemon juice, letting it sit for about 10-15 minutes.
It's now become one of those health habits that I can't live without. My body clearly appreciates this (I can tell by the way I feel after), and it has also helped clear up the stomach issues I used to have.
Why Lemon Water Is Good for Bodybuilding
A cup of medium-hot water with lemon juice first thing in the morning purifies the liver.
This morning ritual should be a staple for bodybuilders who intake supplements that are hard on the liver.
It can also help ease joint pain and inflammation by cleansing the system from impurities and releasing the acidity and uric acid from the joints.
When it comes to boosting the body's digestive and detox systems, lemon is a natural energizing remedy.
Drinking the juice encourages our body to detox naturally. It helps the kidneys and the liver wash out toxins, and gives your body the essential nutrients it needs for radiant skin.
Lemons contain calcium, magnesium, vitamin C, bioflavonoids, pectin, citric acid, and ascorbic acid.
Ascorbic acid is a natural antioxidant that plays an important role in the prevention of carcinogenesis, cardiovascular problems, and many chronic diseases.
Drinking lemon water helps the liver produce enzymes for the body to stay at an alkaline condition.
The phytochemical D-limonene, which is found in lemons and other citrus fruits, contributes to optimal health. It may also protect against common chronic diseases such as cancer and cardiovascular disease, degenerative eye and cognitive conditions, and general damage caused by aging.
The highest content of limonene is found in the peels and white, spongy inner parts of the lemon. In natural and alternative medicine, D-limonene is used to relieve gastroesophageal reflux disease and heartburn.
Other tips on how to include lemons into your daily life:
D-limonene can be added to the diet by using the oils of lemons, oranges, and grapefruits.
Make delicious tea with hot water, fresh lemons, fresh ginger, cinnamon, and honey.
Use it to rinse your mouth for antibacterial purposes if you have a canker sore or achy throat.
Lemon Balm essential oil can be used as a home freshener for its calming effects.
Watch this video – 15 liver-improving foods for an all-natural detox
Chris Willitts (creator of V3), is the founder and owner of Vegetarian Bodybuilding.
V3 Vegetarian Bodybuilding System is a mixture of science and author's advice, providing users with optimal diet and exercise. This system is designed for vegans and vegetarians only.
A lot of research has been put in this program. Furthermore, a lot of professional bodybuilders and athletes tried and tested the program, praising its progressiveness and efficiency.
The program is about taking control of your own body and health according to your potential and needs. And worry not; you'll get plenty of proteins with this system. It will boost you with energy, and you'll feel just a strong as any carnivore would (perhaps even stronger, depending on how much you invest in your exercise). It avoids vitamins deficiency and provides you with a lot of proteins, vitamins, minerals, and antioxidants. 
Instead of saying things like "I think a plant-based diet is good for athletes and bodybuilders," the V3 Vegetarian Bodybuilding System claims "I know a plant-based diet is good for athletes and bodybuilders, and I have results to prove it."
To find out more, visit the website at V3 Bodybuilding –  Detox and Increase Your Bio Energy