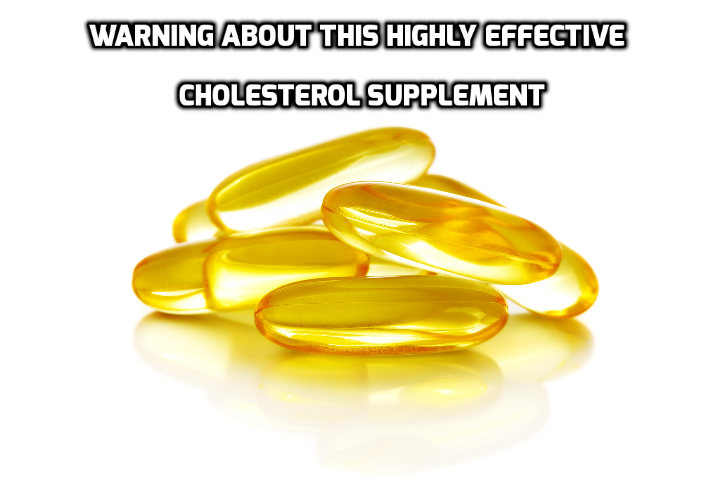 Warning about This Highly Effective Cholesterol Supplement
You've no doubt heard about the amazing effectiveness of fish oils (Omega-3) as a cholesterol supplement —and it's absolutely true, as proven in repeated studies.
BUT only if it's used in a specific, right way!
Unfortunately, most people use fish oil supplements in the wrong way, making them extremely harmful to their heart and overall health.
This misuse is even worse than unhealthy Omega-6 fats, as proven in a new study published in the British Journal of Nutrition.
The problem is that Omega-3 oils are highly oxidizable, meaning the oils become rancid easily when exposed to light, heat or oxygen.
They'll become harmful before you begin tasting the rancidness.
In this British Journal of Nutrition study, the researchers divided their 54 participants into three groups:
1) One group received 8 grams of fresh fish oil per day.
2) Another group received 8 grams of oxidized fish oil.
3) The third group received 8 grams of high-oleic sunflower oil.
Participants took the supplements for 7 weeks; their blood was tested at the beginning, after three weeks and at the end of the study.
After 7 weeks, the sunflower oil group increased their LDL cholesterol level 5%. No surprise.
BUT the oxidized fish oil group more than DOUBLED that amount, increasing their LDL level to a whopping 11%. Double digits!
Those who took the fresh fish oil supplements, however, gained 3% improvements in LDL level.
The main problem with this cholesterol supplement is that there is no way to know if the supplements you buy are already beginning to oxidize. Studies have shown that up to 62% of fish oil supplements are already oxidized in the store.
If you're going to take those supplements, make sure you buy them from the cooler and keep them in your fridge at all time. Get them in dark containers and pay close attention to the expiration date.
It may not even be worth taking these supplements as the potential harm (11%) is so much greater than the potential benefit (3%)—almost 4 times as much!
You may be better off consuming fresh food high in Omega-3, such as fresh fish and flaxseed. Then avoid highly processed food and oils high in Omega-6, such as sunflower and safflower cooking oils.
The main point to take away from this study on this cholesterol supplement is that cholesterol oxidization is the #1 reason for cholesterol plaque buildup in your arteries.
Eliminating all oxidized cholesterol is the KEY to avoiding stroke and heart attack.
Watch this Video – 7 Best supplements that will clean your arteries naturally at home
Here is how I cleared out 93% of my clogged heart arteries and optimized my cholesterol level by cutting out ONE single ingredient…
This post is from the Oxidized Cholesterol Strategy Program created by Scott Davis. He once suffered from High Cholesterol so much that he even had a severe heart attack. This is what essentially led him to finding healthier alternatives to conventional medication.
The program is highly focused on eliminating one simple ingredient you consume every single day, an ingredient you had no idea you were even putting it your body.  What's scary is that this ingredient isn't even listed on the label of many common food choices. It's terrifying stuff! So, this system starts you off with valuable information about this one simple ingredient, what it's doing to your body and what you can do about it. But it doesn't end there.
The Oxidized Cholesterol Strategy goes on to teach you a wide range of diet, fitness, lifestyle, exercise, sleep and eating tips that will help you maximize your results. More importantly, these tips will help completely clean out any plaque build-up in your arteries.
To find out more about this program, go to How to Maintain Healthy Cholesterol Level.
You may also like:
Scar Treatment Home Remedies – How Best to Reduce Scar Visibility?