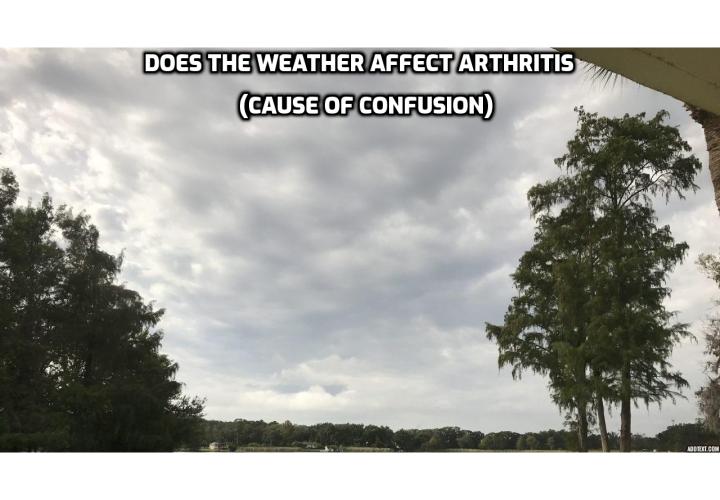 Treat Acute Arthritis – Does The Weather Affect Arthritis (cause of confusion)
Some people swear that weather makes their arthritis flare up. Others don't seem to be affected at all.
And weirdly enough, different kind of weather appears to affect people's arthritis in a different way.
So, what does the science say? In today's article, we go over several studies on this subject and try to clear the confusion up once and for all.
In 2013, the journal Clinical Rheumatology published a study in which 245 arthritis patients visited a Madrid emergency room with arthritis pain 306 times between 2004 and 2007.
When the weather conditions were examined, it turned out that those patients, all of whom were aged between 50 and 65, were 16 percent more likely to experience severe pain when it was cold.
But a 2014 study in Arthritis Care & Research on 993 people in Sydney, Australia found that the temperature, humidity, air pressure, wind speed, wind gust, wind direction, and rain did not appear to have any effect on the amount of back pain that their subjects experienced. These subjects did not have arthritis but complained of severe back pain at primary care clinics.
If you aren't confused enough, a 2015 study in the Journal of Rheumatology, conducted on 810 European participants with osteoarthritis concluded that humidity definitely worsened arthritis pain, especially in cold weather. Cold weather alone had little effect. Moreover, for the pain to worsen, high humidity had to continue for a period of days. They couldn't find a relationship between pain and daily humidity.
BMJ printed a study in 2017 in which researchers analyzed the medical information of 1,552,842 people who had visited clinics with back or joint pains.
The subjects suffered from any condition like rheumatoid arthritis, osteoarthritis, spondylosis, intervertebral disc disorders, and so on.
They found no relationship between the pain and rain, and they did not test for temperature.
In 2016, British scientists thought they would sort through the muddle once and for all by using a smartphone app to collect data from the largest sample of participants ever. Participants submitted their self-assessed daily arthritis pain scores between January 2016 and April 2017, while the app recorded their location using GPS technology.
The researchers could then compare the scores with the weather conditions.
With more than two million data pieces available, they performed a preliminary analysis which showed that the lack of sunlight and/or rain worsened arthritis pain for people in London, Norwich, and Leeds, i.e. the three cities they had examined.
So, you can see how the studies are all over the place. Indeed, the only thing that should matter in the end would be how you feel and what you experience during the different weather changes.
Fortunately, arthritis in any weather may be a thing of the past if you follow the 3 easy steps to treat acute arthritis that are explained here…
Treat Acute Arthritis – Arthritis and Fatigue Connection Revealed
Arthritis is a serious enough disease that disrupts your life enough, but many people with this condition also experience extreme fatigue, making it impossible to lead anything close to a normal life.
A team of French scientists has just published a study in the journal Joint Bone Spine, explaining the connection between these two conditions.
And reveals a solution for both.
They analyzed the information of 962 rheumatoid arthritis patients collected by a French COMEDRA cohort study.
This information included their fatigue, which was scored out of 10; with acceptable ranging from 0-2, moderate ranging from 3-4, and severe ranging from 5-10.
It also included their demographic characteristics, social status, physical activity level, arthritis disease activity level, and co-occurring conditions.
The average fatigue score was 3.8 out of 10, with 40% of the patients reporting severe fatigue.
On average, they had 1.8 co-occurring conditions, with the most common of these conditions being anxiety/depression, something which 52% of the participants suffered from.
Depending on the statistical methods used, the most fatigued arthritis patients were female, unemployed, physically inactive, obese, and had any of the following:
Impaired ability to function physically.
More than one co-occurring condition.
Anxiety/depression.
Chronic obstructive pulmonary disease.
High blood pressure.
Sleeping difficulties.
Extreme pain.
Long disease duration for arthritis.
The more factors they had, the worse both arthritis symptoms and fatigue tended to be.
Thus, working on reducing each of those connected factors will help improve both arthritis and fatigue.
I can relate to this. There are often times when my arthritis was so bad that I felt lightheaded and absent, and I couldn't even communicate with other people.
But after I managed to reverse my arthritis, I have never experienced any of these symptoms of fatigue again.
Here are the 3 steps I took to treat acute arthritis that helped me to completely reverse my long-lasting arthritis in 21 days…
Treat Acute Arthritis – One Arthritis Factor Spikes It 36%
A new study from Iceland and Sweden, and published in JAMA reveals one factor that can increase the risk of arthritis by a scary 36%.
What's more, by managing this factor, you may be able to avoid arthritis flare-ups.
To get their data, they analyzed information collected by a population- and sibling-matched retrospective study performed in Sweden between 1981 and 2013.
The subjects included 106,464 people with stress-related disorders, 1,064,640 people who matched them on most characteristics but who were free from stress-related conditions, and 126,652 siblings of people from both groups.
They also used the National Patient Register to identify cases of stress-related conditions and autoimmune diseases.
During the 10-year follow-up period, people with stress diagnoses were 36% more likely develop an autoimmune disorder when compared their peers without stress diagnoses.
Those with post traumatic stress disorder were 46% more likely to develop these conditions compared to their peers, and more than twice as likely to have three or more autoimmune conditions as compared to those without stress-related conditions.
Post-traumatic stress disorder was the most damaging of all the stress-related conditions.
The study is disturbing as it shows that, on top of a condition like post-traumatic stress disorder, which is already life altering, you are at an increased risk of developing another life-altering condition, like rheumatoid arthritis.
The authors speculated that this could be due to a combination of increased cortisol levels and increased circulating pro-inflammatory cytokines, both of which drastically increase the risk of arthritis.
Most of us who have suffered from arthritis can, however, bear witness to the fact that symptoms often worsen when we're under a lot of stress.
The lowering cortisol level with the use of simple relaxation exercises can be very beneficial to arthritis, even if you don't suffer stress disorders.
For more ideas on how to treat acute arthritis, watch this video, – 10 Best Foods to Fight Arthritis and Joint Pain
This is actually one part of the 3-step strategy that I used to treat acute arthritis that completely reverse my arthritis in 21 days. Learn how to follow my footsteps here…
This post is from the Arthritis Strategy Program. It was created by Shelly Manning, a former arthritis sufferer and a health consultant.
A Brief Background on the Author
Like you, Shelly Manning also suffered from arthritis, particularly osteoarthritis. This was due to her weight and desk job. Her condition eventually took a toll on her relationship with her (former) husband.
It was when she went to Hong Kong that she met Janerdquo, an old woman who owned the restaurant where she ate. Janerdquo supposedly offered her a bowl of a weird-smelling soup, which helped ease her joint pain. She ate there each day for 10 days until she was completely healed from arthritis.
Shelly Manning decided to research this natural remedy and to create a step-by-step treatment plan to others who are suffering from different types of arthritis, such as gout, rheumatoid arthritis, osteoarthritis, fibromyalgia, and psoriatic arthritis.
That's why she created "The Arthritis Step By Step Strategy." According to her claims, this unique strategy will get rid of joint pain and stiffness, repair your damaged joints, and treat the underlying cause of your arthritis.
Shelly teamed up with Christian Goodman, the owner of Blue Heron Health News, a publishing company that aims to help people to take responsibility for their own health by using natural health alternatives to reverse arthritis in fingers and knees naturally.
To find out more about this program, go to Treat Acute Arthritis  Naturally at Home   
You may also like:
What is the best way to eliminate vertigo attacks?
What is the best way to stay erect longer without pills?
What is the best way to get hard fast without pills?
6 types of nuts that absolutely down LDL cholesterol level
Revealing here for you the main bad breath-related conditions
Are there any link between genetics and having tonsil stones?