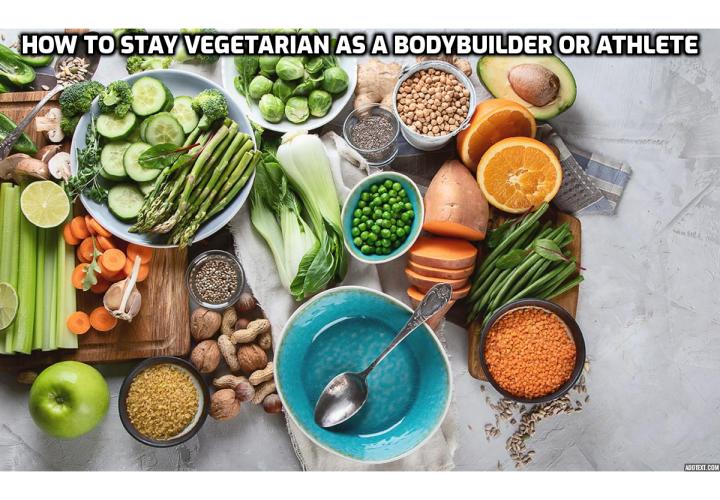 The belief that competitive athletes and bodybuilders need to eat meat to be successful is slowly fading away as science backs up the benefits of a plant-based lifestyle. While many fitness buffs recognize the health benefits of a vegetarian diet in theory, some still struggle to stay committed to plants in their own lives.
Studies and surveys reveal that the challenges of leaving meat behind are physical, mental, social, and economical. Dramatically changing your diet creates an internal and external transformation and alters the way you approach food and live your daily life.
Since the nutrition needs of athletes and bodybuilders are even more demanding than those of the average person, it's important to develop a customized meat-free strategy that works for you.
Breaking Old Habits, Building New Ones
It's an obvious understatement to say that breaking old habits is hard, and this is certainly the case when you're trying to make the switch from meat to plants.
It takes some people time to adjust to the tastes of meat substitutes and devote time to plant-based meal prep. If you prepare meals for more than just yourself, it can be a challenge to get everyone in your household on board with your new commitment.
The key to making your plant-based diet stick is to acknowledge and embrace your personal reasons for making this dietary change and to always eat with purpose. Every bite you take is an opportunity to improve your body, mind, and spirit.
Writing down small and large nutrition goals is a great strategy that helps many aspiring vegetarians keep track of their trigger points and breakdown moments.
Accommodating Your Active Lifestyle
One of the best strategies to staying committed to plants is to master the art and science of plant-based meal planning. This is even more important if you're an athlete or bodybuilder who can't afford to lose your edge at the gym.
For a successful transition, fully develop your new plant-based meal plan before disrupting your old one.
On a plant-based diet, you will need to consume more protein-dense foods — like beans, seeds, and nuts — to build and sustain muscle.
Fortunately, the protein that comes from plant-based sources is more natural and results in an improved muscular shape without the additives and preservatives found in meat.
The Power of Protein Alternatives
As all athletes and bodybuilders know, protein is crucial to productive workouts, recovery, strength, and stamina. Protein comes in many forms, and a majority of them aren't meat-based!
As a hardworking athlete, your body will benefit tremendously from a varied and diverse set of protein sources to fuel your workouts and give you the strength and energy you need. A balance of protein and carbohydrates fuels working muscles and powers up your training sessions.
These are a few of my favorite protein sources* that are meat-free, easy to prepare, and absolutely delicious:
Lentils
Broccoli
Tofu
Hemp and chia seeds
Spinach
Asparagus
Almonds
Greek yogurt made with sheep or goat milk
*All of which are the organic and non-GMO versions.
Meat-Free Meal Prep Tips
Any healthy diet, whether vegetarian or not, requires a certain amount of advance planning. If fitness is important to you, don't leave your body's fuel up to chance and simply "wing it."
To start, clean out your fridge and pantry to get rid of all the unhealthy options just waiting to tempt you. You need a game plan before you hit the market, so make a list of protein sources, fruits, vegetables, nuts, grains, sauces, and spices before leaving the house.
Buying in bulk and batch cooking will save you time and money if you have extra storage space. This is also the time to invest in divided containers, cooler bags, and freezer packs to establish a meal management system that fits your schedule and lifestyle.
Sunday is a popular meal prep day for focused bodybuilders and athletes to get on the right track for the week ahead.
When you have a little extra time, make a big batch of healthy snacks, cook base foods like quinoa and sweet potatoes, slice and chop veggies for snacks and meals, and prepare protein shakes and smoothies in jars or plastic bags to freeze for later use.
The key is to make your weekly meals easy and ready to go without a hassle, so you stay committed and don't make excuses.
Surround Yourself with Plant-Eating Warriors
It's important to be patient with yourself as you transform your diet and recognize that important changes like this don't happen overnight.
In fact, a study conducted at the University College London found that the average time to adopt a new habit is 66 days; however, individuals varied anywhere between 18 and 254 days.
After fighting your own internal battles, there are social pressures to deal with as well.
Not only is it a challenge to resist old habits when you're alone, but those pressures get multiplied when you're not surrounded by a community of people who eat like you.
That's why it's important to talk to someone you trust about how you're feeling and always listen to what your body is telling you.
One of the best ways to embrace the vegetarian lifestyle is to surround yourself with like-minded individuals who also care about their health, fitness, and environmental impact.
Become a regular at local vegetarian restaurants and chat with the staff and other patrons about meat-free dishes and nutritional balance. To get creative in the kitchen and have some fun, sign up for a vegetarian cooking class.
And never leave home without some healthy snacks, so you won't be tempted to give into cravings and reverse your progress.
The road to a plant-based lifestyle can feel challenging and isolating at times, but just know that you are on the right path and that others will follow your lead.
For more ideas about fitness vegan diet, watch this video – HIGH PROTEIN VEGAN MEAL PREP
Author Bio:
Chris Willitts (creator of V3), is the founder and owner of Vegetarian Bodybuilding.
V3 Vegetarian Bodybuilding System is a mixture of science and author's advice, providing users with optimal diet and exercise. This system is designed for vegans and vegetarians only.
A lot of research has been put in this program. Furthermore, a lot of professional bodybuilders and athletes tried and tested the program, praising its progressiveness and efficiency.
The program is about taking control of your own body and health according to your potential and needs. And worry not; you'll get plenty of proteins with this system. It will boost you with energy, and you'll feel just a strong as any carnivore would (perhaps even stronger, depending on how much you invest in your exercise). It avoids vitamins deficiency and provides you with a lot of proteins, vitamins, minerals, and antioxidants. 
Instead of saying things like "I think a plant-based diet is good for athletes and bodybuilders," the V3 Vegetarian Bodybuilding System claims "I know a plant-based diet is good for athletes and bodybuilders, and I have results to prove it."
To find out more, visit the website at V3 Bodybuilding – Fitness Vegan Diet